2010 Volkswagen Golf to Start at $17,490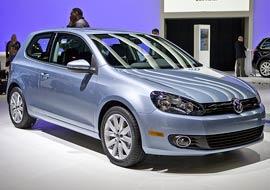 Volkswagen is changing the name of its Rabbit to the name it uses around the world, the Golf. It will also get a price bump, up from $16,300 for the Rabbit to $17,490 for the Golf base model.
The base model comes with a 175-horsepower, 2.5-liter gas engine and two doors. An upgrade to four doors will cost you $19,190.
Big news for the new Golf is the inclusion of a turbo-diesel engine. The two-door TDI begins at $21,990, and the four-door TDI starts $22,590. This diesel engine is the same one powering the Jetta TDI.
Meanwhile, the Golf GTI will have an starting price tag of $23,290.