GM to Try Leasing Pilot Program With U.S. Bank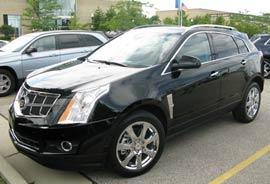 As we reported earlier, GM has found a financing partner outside of GMAC to partner with for at least the month of August. The automaker will team up with U.S. Bank to provide financing to customers on select vehicles in Michigan, Ohio, New York, New Jersey and Connecticut.
The program is already under way and set to run through Aug. 31, but it will only apply to certain vehicles, including the 2009 Chevy Malibu, Equinox and Traverse, the 2009 Cadillac CTS and 2010 Cadillac SRX, and the 2010 Buick Enclave and 2010 GMC Acadia.
The pilot leasing program will be GM's first foray into leasing in almost a year.
Because leasing is such an integral part of moving luxury cars, the launch of the CTS will be accompanied by a nationwide leasing program to build excitement and spur customers to action.
Re-Lease Me: GM Starts Leasing Cadillac, Buick, GMC and Chevy Models Again (Autoblog)