Michigan Reaps $1.36 Billion in Grants for Advanced Battery Tech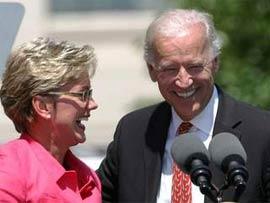 The state of Michigan will be the greatest beneficiary of a $2.4 billion federal grant program to develop advanced battery technology for plug-in and electric vehicles.
Vice President Joe Biden and Michigan Gov. Jennifer Granholm announced that $1.36 billion will land in Michigan to develop an epicenter for battery technology to compete directly with Asian manufacturers, which currently have a near-monopoly on battery supply. According to a study by Michigan State University, this will create 6,800 jobs in the next 18 months. and potentially 40,000 jobs by 2020.
This is obviously a drop in the bucket in terms of Michigan's nearly catastrophic job-loss numbers; the state lost 59,000 jobs in June alone and has hemorrhaged 244,000 manufacturing jobs since 2005.
Yet the Obama administration wants to help jumpstart an industry that appears to be the immediate future of the automobile. As demonstrated by a lagging supply of the 2010 Toyota Prius, the bottleneck of available batteries could be one of the largest issues facing automakers as they build more EVs and plug-in hybrids. Becoming dependent on foreign batteries is better than being dependent on foreign oil, but why not help that burgeoning industry thrive in the U.S.?
The biggest winners from the federal grants are Johnson Controls Inc. ($299 million), LG Chem Ltd. ($151 million), Chrysler supplier, A123 Systems ($249 million) and KD Advanced Battery Group LLC ($161 million). As for the automakers, Ford will receive $93 million and GM $242 million.
Companies that won the grants must match them dollar-for-dollar. Some of the companies will also receive $700 million in tax credits, but those will not be available until they can meet certain performance measures that create jobs, including building a physical plant or starting production of a vehicle.
$1.36 Billion to Create Technology Epicenter in Michigan (Detroit Free Press)