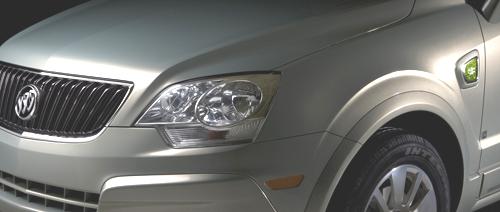 Today, GM announced it would launch an all-new five-passenger Buick crossover in late 2010. The bigger news is that the crossover will get a plug-in hybrid model in 2011. The crossover itself shouldn't be a surprise. It's likely to be based on the popular Chevy Equinox and upcoming GMC Terrain. GM said it will feature the same fuel-efficient four-cylinder engine as those two models.
The plug-in hybrid powertrain, however, is not lifted entirely from the upcoming Chevy Volt plug-in hybrid. Instead, GM will be using its 2-Mode Hybrid system first utilized in large SUVs like the Chevy Tahoe and the never-sold-to-the-public Saturn Vue 2-Mode Hybrid. The Buick plug-in will use two electric motors teamed to a 3.6-liter V-6; it's flex-fuel compatible, which means it can run on E85 ethanol.
That system will be matched to an advanced battery pack that is lifted from the Volt, but the power delivery will shift from engine to motor depending on driving conditions. The Volt will utilize an electric motor to power the wheels at all times; the teamed engine will work like a generator to recharge the batteries that power the motor.
GM says the new Buick plug-in will get double the fuel economy on short trips of similar-sized SUVs. That's because when fully charged the Buick will be able to travel up to 10 miles on the electric motor before the hybrid system kicks in. The hybrid can fully recharge in four to five hours using a standard 110-volt household outlet.
Putting this technology into a Buick rather than a Chevy or GMC makes sense since the premium nameplate will likely make the sticker shock of such a system a little easier to swallow. GM's full-sized SUV hybrids were priced and equipped like top trim levels, so consumers wouldn't see a significant spike in sticker price. However, sales of those vehicles have been tepid. The smaller Buick could look a lot more attractive to hybrid shoppers than a hulking SUV.
Editor's Note: The photo above has been lightened to show off the lines of the hood which were shadowed. The original photo is below.