Plan to Wind Down Cash for Clunkers Coming This Week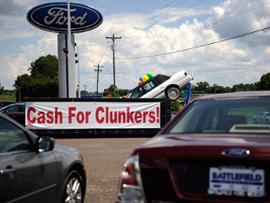 Transportation Secretary Ray LaHood announced today that the government will announce its plans to wind down the Cash for Clunkers program — officially the Car Allowance Rebate System — in the next two days.
It was just two weeks ago that Congress approved another $2 billion in funding for the program. By the most recent numbers, more than half of the $3 billion total has already been spent. LaHood had earlier guessed that the new funds would be gone by Labor Day, Sept. 7, but the Wall Street Journal reports that LaHood declined to update a timetable until the formal announcement.
We projected 18.5 days left in the program yesterday, taking the program through Sept. 6, but it's unlikely that the government would want to cut things too close with a busy car-shopping weekend adding to the clunker tally.
White House Will Outline Plan to End 'Cash for Clunkers' (Wall Street Journal)