RAV4 Owners Angry Over Transmission Problems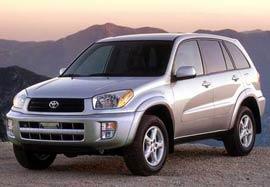 Owners of the Toyota RAV4 have expressed outrage at the automaker's failure to warn them about a potentially serious transmission problem.
The National Highway Traffic Safety Administration has logged more than 120 complaints about transmission problems with RAV4s from the 2001-03 model years. Consumer complaints to the Center for Auto Safety have included a $4,000 repair and a transmission failure on the highway that nearly led to a fatal accident.
The problem seems to be with the engine control module, which tells the transmission what to do. Toyota sent its dealers a technical service bulletin in March 2006 that warned consumers might complain about rough shifting, but it only instructed dealers to replace the ECM or — if that didn't work — the transmission. The automaker did not notify vehicle owners of a problem.
This warning is important, according to Lance Wiggins of the Automatic Transmission Rebuilders Association. He told the New York Times that if problems like this occur with the transmission, RAV4 owners should immediately stop driving the vehicle and have it repaired.
Toyota has said that while it acknowledges the glitch in some ECMs, it did not notify consumers because it was not considered a safety threat, and the repairs are covered by warranty. Now Toyota is studying the issue further and deciding whether to send out notices.
Meanwhile, owners are turning to the NHTSA, saying the safety hazard posed by the faulty transmission warrants a recall. The agency has yet to set up a defect investigation, which is what triggers a recall. A NHTSA spokesman told the New York Times that the agency must decide if the problem is a clear safety threat or a "consumer inconvenience," but that the situation is being watched closely.
RAV4 Owners Fume Over Toyota's Handling of Transmission Glitch (Wheels)