Recall Alert: 185,903 GM Trucks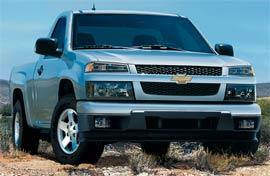 GM has issued a recall for 185,903 pickups, including the Chevrolet Colorado from the 2004-09 model years, the GMC Canyon from the 2004-09 model years, the 2006 Isuzu I-280, the 2006 Isuzu I-350, the Isuzu I-290 from the 2007-08 model years and the Isuzu I-370 from the 2007-08 model years, according to the National Highway Traffic Safety Administration.
The recall is due to a brake-lamp switch that may not work because of contamination in the switch. This could mean that the brake lamps won't work or will stay continuously lit, either of which could pose a safety hazard to other drivers who can't see what the driver intends to do.
The recall applies to vehicles either originally sold or registered in Alabama, Arizona, Florida, Georgia, Hawaii, Louisiana, Mississippi, Nevada, New Mexico, Puerto Rico, South Carolina, Texas, U.S. Virgin Islands and Utah.
GM says the new component for the switch will not be available until February 2010, so it will offer special coverage for all registered vehicles. Owners who have problems can get free repairs but must return to a dealership when the newly designed parts become available. The inspection and replacement part will both be free.
Owners may contact Chevrolet at 800-630-2438, GMC at 866-996-9463, Isuzu at 800-255-6727 or the NHTSA vehicle safety hotline at 888-327-4236.
2009|Chevrolet|Colorado
2009|GMC|Canyon