VW Diesels Doing Well Versus Hybrids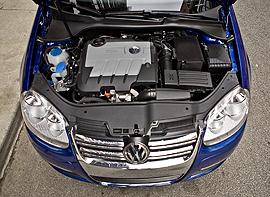 Automotive junkies know that modern diesel engines in fuel-efficient cars can be more fun to drive — while delivering high mileage — compared with modern hybrids. That's why Volkswagen has relative hits on its hands with diesel versions of its Jetta sedan and wagon.
In July, VW sold 3,865 Jetta TDI sedans and 1,932 TDI wagons. Honda's all-new Insight hybrid has been off to a slow start, posting another lukewarm month of sales for July: 2,295. Ford's hybrid versions of the Fusion, Milan, Escape and Mariner totaled 5,353 sales in July.
However, the Toyota Prius set a sales record during a Cash for Clunkers-fueled July, with sales of 19,173. VW may have a ways to go to catch up to the Prius, but compared with other hybrids — and even other VW models, like the new Tiguan crossover (1,088 sold) and CC sedan (1,413) — diesel Jettas are doing very well.
The Jettas are the best example of what diesel engines can do in small, relatively affordable packages. Besides large trucks, most diesel offerings are found in German luxury cars and SUVs. The low price of diesel this summer also has to be taken into account, but perhaps all this will lead to other automakers bringing the technology to smaller cars.