Weekend Athlete, a Ford Focus and the Tri-ing for Kids Triathlon
Most times when I'm competing I have to rent a car to get where I'm going, and sometimes that means getting stuck with one that wouldn't be my first choice. Such was the case when I got a sedan for my latest camping trip/triathlon adventure. And not just any sedan — a compact sedan.
Car: 2009 Ford Focus SE
Destination: Tri-ing for Kids Triathlon near Eagle, Wis., and nearby campground
Distance: About 232 miles
Fuel cost/average mpg: $22.60/roughly 27 mpg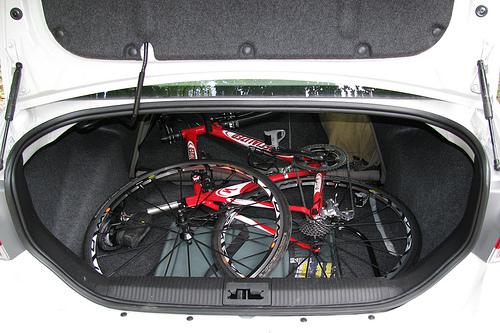 The trip: It was another new race for me, but I'm pretty familiar with the area because it's where I do most of my cross-country skiing. The ski trails are pretty hilly, so I figured the triathlon would give me a good workout.
I camped the night before and the night after, so I was really loaded down with gear. When I race, I don't exactly believe in roughing it – nothing feels better after a long, sweaty morning than a clean, dry change of clothes, plus a good lunch. In any event, I don't remember the last time I had so much stuff to bring on one trip.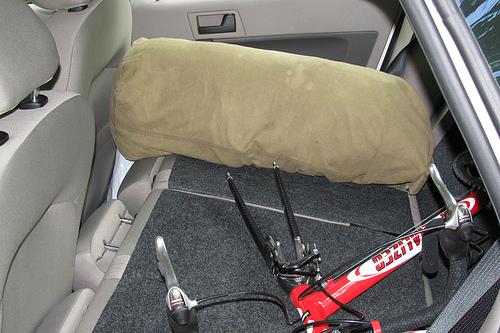 One feature I really wish the Focus had: A wagon or hatchback version. That would make loading the thing fractionally easier and — at least to my eye — hatchbacks and wagons always look better than sedans.
Feature I found I didn't need: Nothing. I used everything the little Focus could give me.
A feature I found surprisingly useful: The multi-position manual seat adjustment. Within a couple minutes, I could get the seat exactly where I wanted it, and I got out of the car feeling really good after a long haul.
Drive report: A good portion of this drive was on rural highways, with plenty of turns and changes in elevation. It's one of my favorite drives in any time of year. There was also a fair amount of stop-and-go city driving, plus construction delays, and my mileage suffered because of that.
Athlete notes: The Focus is the automotive equivalent of the year I played goalie in soccer: I tried really hard, I wished I could be good enough to make a career out of it, but I just wasn't cut out for it. It's the same with the Focus. You need to look at racks if you're going to buy this car and use it for both camping and carrying a bike.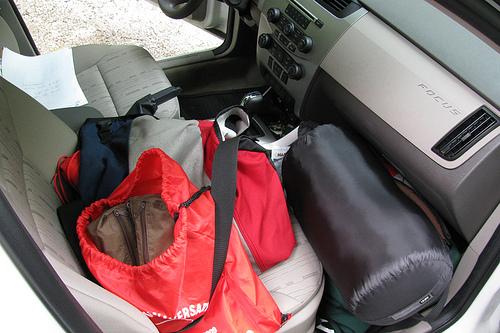 If I were just camping, the Focus would be fine — there's a plenty-large trunk back there. If it were just me going to a bike race or triathlon, it's acceptable because many larger cars make you take a wheel off to fit a bike inside them, so the Focus isn't much worse in that regard.
However, if you like to camp and race, or go racing with a buddy, there are many better options. That's why you buy a car and not rent one: You get to pick what you want.
Comfort vs. convenience: Well, the Focus was comfortable to drive, easy to park and got decent mileage. But with all my stuff in the car with me, I felt like a vagabond, and not in a good way. It wasn't super convenient, but it was easy to live with strictly as a mode of automotive conveyance.
Final thoughts: It's worth noting that I took a similar trip to a triathlon with the previous version of the Focus sedan and had a much harder time fitting my stuff in there. The trunk is improved, in other words. But as my bike-racing guru says: Friends don't let friends buy sedans. The Focus illustrates why.