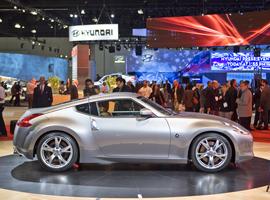 Today, the organizers of the 2009 Los Angeles Auto Show announced a few details about the upcoming show; our coverage begins Dec. 2. Audi, Ford, GM, Honda, Hyundai, Mazda, Porsche and Toyota are among the automakers scheduled to make world debuts, which are generally considered vehicles that have not been shown at other international car shows. More automakers planning world debuts should be announced shortly.

We know Hyundai will show its 2011 Sonata sedan for the North American market, which was unveiled at an event — technically not a car show — in South Korea earlier this month. We haven't heard many rumors of the other debuts besides the Mazda2, which is already on sale outside the U.S.

We don't normally like to speculate, but when it comes to auto shows it's always fun to dish. If you have a link to some rumored or confirmed vehicles, post them in the comment section below.