Dealer Turns Clunker into Trade-In, Upsets Customers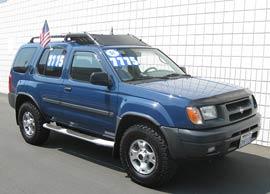 California couple Dan Hoang and Tara Bui turned in their 2001 Nissan Xterra using the Cash for Clunkers program to get the low-mileage vehicle off the road. A few weeks later, however, they discovered that the dealer had simply put it up for sale as used car.
The dealership avoided breaking the law because it never asked for a reimbursement credit from the federal government's program. Hoang and Bui were not happy that the Xterra, which they said averaged 17 mpg, would still be on the road.
"One of the major reasons for me to bring the Xterra to the car dealer was due to the program's requirement that all clunkers were to be destroyed," Hoang wrote in a complaint to the U.S. Department of Transportation. "If I had known that the dealership was using the car as a trade-in, then I would not have brought the car in, but simply kept the car for another year or two."
The Department of Transportation said that the CARS program has no jurisdiction over the dealership's decision since it never requested the government credit.
The couple received a $3,500 credit toward a new VW Jetta, and the dealer is selling the Xterra for $5,995.
Couple Shocked to Find Their Clunker is for Sale (OC Register via Consumerist)