DOT, EPA Propose New Fuel Economy, CO2 Rules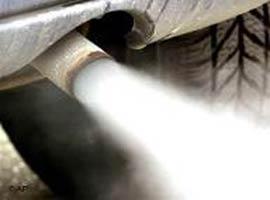 After President Barack Obama outlined the plan in a May speech, the U.S. Department of Transportation and Environmental Protection Agency have announced a coordinated program to improve the fuel economy standards of passenger cars and trucks as well as lower greenhouse gas emissions.
The two agencies will create a national program to coordinate vehicle standards for the model years 2012-2016. Rather than having three standards (DOT, EPA and a state standard), the agencies will create one corporate average fuel economy standard and the first-ever greenhouse gas emissions standard.
Working with automakers, the federal government plans for the overall light-duty vehicle fleet to reach 35.5 mpg by 2016, well ahead of a CAFE law passed by Congress in 2007 that required an average fuel economy of 35.0 mpg by 2020.
Additionally, all vehicles will be subject to a greenhouse gas standard, reaching an estimated combined average emission level of 250 grams of carbon dioxide per mile by 2016. This greenhouse gas reduction would be the equivalent of removing 42 million cars from the roads, according to the EPA.
The agencies foresee savings for consumers — as much as $3,000 over the lifetime of the vehicle for those cars and trucks from the 2016 model year. The program also proposes to reduce oil dependency by conserving 1.8 billion barrels by 2016. For context, this is roughly twice the amount of oil imported in 2008 from Persian Gulf countries, according to the Energy Department.
The plan will be subject to an oversight hearing by the House Select Committee on Energy Independence and Global Warming and the House Energy and Environment subcommittee, but with Democratic control, it will likely sail through. There will be 60-day period for public comment, which can be done through the EPA's website.