Ludacris is the New Oprah, Gives Away 20 Cars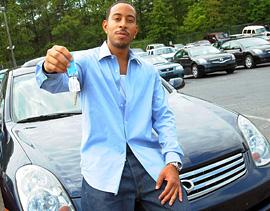 Atlanta-based rapper and actor Ludacris pored through nearly 4,000 essays from needy folks who said they needed reliable transportation to keep their jobs. He then gave away 20 used cars — we're assuming in good condition — to the neediest applicants.
"People are getting laid off, and now are looking for jobs," Ludacris said. "To be efficient, you need some transportation of your own to get there. That's why I wanted to give back to those who need it."
Not only did the winners get a free used car, they also received gas for 30 days; they did have to pay for the car's registration, taxes and insurance costs.
While the giveaway isn't as flashy as the one in which talk-show host Oprah Winfrey gave away 276 new Pontiacs in 2004, we applaud Ludacris for putting his money where his heart is.
Rapper Ludacris gives away 20 cars to people who say they need them to hold their jobs (USA Today)