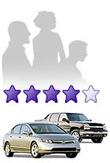 Can you guess at the car-related tragedies and triumphs that must have occurred in the life of a person who goes by the moniker "FoMoCo Fan Again?" From the depths of Maine, "FoMoCo Fan Again" explains how the 2010 Mercury Milan rekindled his (or her) faith in Ford products, while not ignoring that even brand fans can find plenty of places for improvements. Read the review, and then post your own here.
"After owning a number of imports, I'm a fan of Ford Motor Company products again, and my 2010 Milan is the reason.
"I have the base model with the standard four-cylinder and the six-speed automatic and couldn't be happier with it. The car is extremely comfortable, luxurious and good-looking, and given all the features that come as standard equipment, it represents an amazing value. My car has all the power that I want or need, yet it's never yielded less than 29 mpg after combined city and highway driving.
"The only things I'd like to see Mercury change is to replace the hood prop rod with gas struts and to make the five-spoke, 17-inch wheel covers real alloys instead of wheel covers over five-spoke steel wheels."
2010|Mercury|Milan