Survey Shows Buyer Hesitation for Shopping Small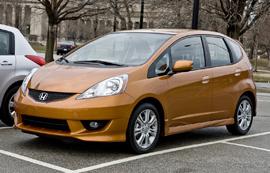 With federal requirements for higher mileage cars looming, car shoppers may have fewer large choices in upcoming years. Automakers have to find a median between what the U.S. market wants — traditionally larger vehicles — and increased fuel economy, which often means downsizing.
A recent study from AutoPacific surveyed more than 32,000 new car and light truck buyers in the U.S and asked what American car buyers want and how willing they are to downsize into smaller cars. The study found that while people are willing to buy a more fuel-efficient car, they don't want to significantly downsize.
AutoPacific asked buyers of all types of cars what was important in their current purchase, how satisfied they are with their car and what changes they would make. So what did the buyers of small cars like the Toyota Yaris, Honda Fit and Chevrolet Aveo want, according to the survey? More acceleration, technology and cargo room. With their most recent purchase, buyers said they made a sacrifice for better fuel economy, but according to George Peterson, president of AutoPacific, "in the future they want something more — bigger, faster and with more bells and whistles."