Tailgate 'Skins' Show Team Loyalty, Uglify Your Car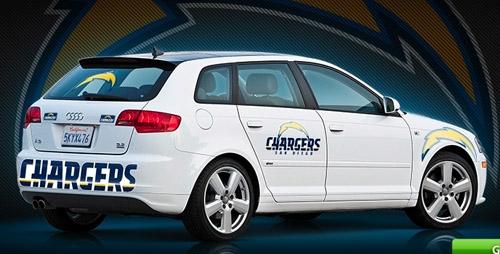 Just in time for football season, the San Diego-based company Skinit is offering Tailgate Packs that let you turn your car, truck or RV into a full-fledged advertisement for your favorite NFL or college team by adorning your vehicle with the team name, mascot and colors.
The "skins" are made from 3M Controltac automotive-grade vinyl with an adhesive that the company claims can be removed without leaving any residue behind. The company says they should last as long as a year before fading.
You can get the emblems for any NFL team and 125 major college football teams, but Skinit is also planning to introduce a customized version for high school and local sports teams.
The car-sized packs cost $49.95, the pickup truck version goes for $99.95 and decorating the RV will cost $149.95. And if you ever defile your Audi A3 like the image above, your team deserves to lose.
Tailgate Packs Let Vehicles Show Team Colors (Detroit News)