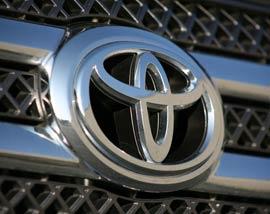 Toyota has told all of its dealers to inspect their vehicles for mismatched floormats. It's believed a floormat caused an accident that killed four people in San Diego County after becoming snagged on the vehicle's gas pedal.
California Highway Patrol Officer Mark Saylor, 45, his wife, Cleofe, 45, their daughter, Mahala, 13, and Saylor's brother-in-law, Chris Lastrella, 38, were riding in a 2009 Lexus ES 350 on a state highway near San Diego. The vehicle was loaned by a dealer while the family's car was being serviced.
Lastrella called police a minute before the crash, saying the accelerator was stuck and the brakes were unresponsive. A voice in the background is overheard telling everyone in the car to hold on and pray, and the call ends with a woman's scream.
The vehicle was going 120 mph when it hit another SUV, flew off an embankment, rolled and burst into flames. The SUV driver received only moderate injuries.
The all-weather floormats in the ES 350 were found to be slightly longer than the normal ones.
In 2007, Toyota issued a recall for some floormats in Lexus ES 350s and Toyota Camrys after receiving complaints that they could trap the accelerator, but the '09 Lexus isn't part of that recall, according to Toyota.
Nevertheless, Toyota will order its network of 1,400 dealers to inspect every new, used and loaner vehicle to ensure that they have the right floormats and are properly secured.
Toyota Orders Floor Mat Inspections After Fatal Crash (USA Today)