Driving With the Top Down Can Damage Your Ears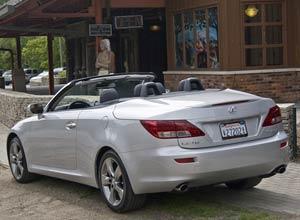 File this story under "it doesn't take an otolaryngologist (ear, nose and throat doctor) to figure this one out."
Driving in a convertible with the top down could damage your eardrums and degrade your hearing over time, according to a study presented yesterday at the American Academy of Otolaryngology-Head and Neck Surgery Foundation's annual meeting in San Diego.
A convertible-owning British surgeon studied seven different convertibles for noise levels at more than 50 mph. The surgeon found prolonged driving with the top down results in noise levels that can damage passengers' ears. The most offensive noises come from wind, passing trucks and other traffic. It's been reported that wind causes more hearing damage for motorcyclists than their loud exhausts, as well.
The lesson? Retract that roof sparingly; the faster you're driving, the more noise you'll generate.
Convertibles May Be Hazardous to Your Hearing (Up to Speed)