Kelsey Mays
Cars.com

Across Indiana, automotive communities face shrinking jobs — from Elkhart's collapsed RV industry to layoffs at Chrysler's casting and transmission plant in Kokomo.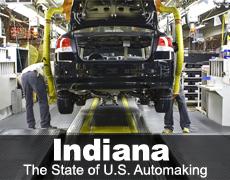 Not in Lafayette. The county it's in has one of the lower unemployment rates in the state, the U.S. Bureau of Labor Statistics reports. And Subaru is a major reason why.

The Japanese automaker sells just five models in the U.S., but in an industry collectively down some 28 percent in year-to-date sales, it's one of just three major automakers to see a year-to-date sales increase.

Why is that? Experts say it's because cars that offer lots of utility sell well during an economic downturn. Perhaps more importantly, the automaker has kept its focus."Being small during these bad economic times helped us," said Jeff Bennett, a 19-year Subaru of Indiana Automotive veteran on the vehicle launch team.

So does having such a fresh lineup. Subaru's sales are buoyed in part by three models — the Legacy, Outback and Forester — which were redesigned for 2009 or 2010. "The fact that they are a smaller automaker and that they are able to revise pretty much their entire product, that's a very significant percentage of their total sales," said Erich Merkle, president of the Michigan-based consulting firm Autoconomy.

Subaru's success may run deeper than merely having a host of redesigned models. GM furnished Saturn with one of the industry's newest lineups in recent years only to finally pull the plug on the sales-starved brand.

"You can freshen your lineup and not do the right thing," AutoPacific analyst Jim Hossack said. Subaru is "doing some of the right things. Now, what do we mean by that? These guys are true to themselves. They stay with all-wheel drive. They stay appealing to ecologically sensitive, outdoorsy kinds of people. They know their customer. They don't appeal to everyone, either in a product sense or in a marketing sense. They know who they are."

"They've stuck to their knitting," Hossack said. "They did not do a pickup; they did not do a minivan."

Subaru represents a very "left-brained" purchase, Merkle said. Practicality trumps flash during a recession.

"The times kind of moved and shifted toward Subaru," he said. "When we started moving toward these recessionary periods, people become a little more logical and rational about their automotive purchases.

In Lafayette, the community seems grateful. Bennett called Subaru "one of the cornerstones of Lafayette," and temporary line worker Brad Wellman said the community has been supportive of the automaker's success.

"People are actually taking a genuine interest in it," Wellman said. "It's pretty much the only factory in town that's doing any sort of good right now."

Among local officials, the automaker has made friends on both sides of the aisle, said Tom Easterday, SIA senior vice president.

"The county government tends to be more Republican; the city government is mostly Democrat," Easterday said. "We get along with both of them."

The reception for Subaru and other Japanese automakers has been "hugely enthusiastic and warm," said Indiana Secretary of Commerce Mitch Roob. "Indiana politicians view the in-sourcing of capital from overseas as enormous positives. And we have more people from Indiana working in the foreign 'transplants' and in their parts makers than we do in the domestic auto industry." That's a big change from 30 years ago when Rust Belt Indiana was one of the major hubs for jobs tied to the Big Three.

In Lafayette, Subaru's jobs seem far less in peril than other manufacturing jobs, partly because the very popular Camry is assembled at the plant for Toyota. Construction equipment-maker Caterpillar, for example, laid off hundreds of workers earlier this year from its Lafayette facility.



Wellman said the state of the auto industry at large is worrisome but added that he's happy to hang his hat on Subaru. SIA would have to cut some 370 temporary workers who were hired after Wellman before he loses his job, he said. "I'm actually working overtime right now."

"There's not really all that much out there right now," Wellman said about the local job environment. "We're kind of latching onto the best thing that's going."

"We're cautiously optimistic at this point," Easterday said. "We've had some other manufacturers and businesses in the local community that have had layoffs and shutdown periods."

Post-recession, however, the automaker could encounter some thorns. Why? Simply put, Subarus are often purchased out of need but less often out of desire.

"When you start getting up to $35,000 or closer to $40,000 for a Subaru, we're finding that people aren't likely to pay that kind of hefty premium," Autoconomy's Merkle said. "Are people that are making more of these left-brained purchases going to be willing to purchase Subaru, or will they move onto something else as the economic conditions improve?"

Subaru could lose its brand identity by trying to expand beyond utilitarian fare or build a cheaper car that sacrifices such utility, AutoPacific's Hossack warned.


"The worst thing that could happen to them is they have the aspirations of becoming a big car company," Hossack said. "They could increase their sales if they just introduced a low-cost, low-priced, non-all-wheel-drive version. Don't do it. Then you just become just like the Hondas and Toyotas and Nissans of the world. Be a niche player."

Next: Indiana: Outlook for 2010 and Beyond

Previously: Greensburg: A Year With Honda