National Geographic Peeks Inside Auto Factories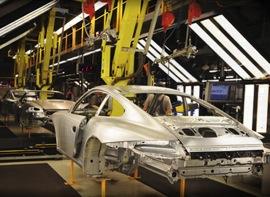 Thursday night is chock-full of good TV shows. Perhaps your tastes swing more toward "Survivor" or maybe you're like me and can't get enough of "The Office" and "It's Always Sunny in Philadelphia," but you'd better gear up the DVR for a series on the National Geographic Channel.
At 8 p.m. EST Thursdays, the channel will show "Ultimate Factories," a reality show that looks at how some of the world's favorite cars are built, piece-by-piece. The Chevrolet Camaro get its moment in the spotlight (well, one of its many moments in the spotlight) on Oct. 15 when the cameras peek inside a GM plant.
The show also focuses on the Lamborghini Murcielago SV, put together by hand in Sant'Agata Bolognese, Italy, which already aired this week but is on again at 3 p.m. EST Thursday; the Rolls-Royce Phantom, assembled in Dingolfing, Germany (Thursday); and the Porsche 911, assembled in Stuttgart, Germany (Oct. 22).
It's an interesting lineup, ranging from the popular but still relatively inexpensive Camaro to vehicles like the Murcielago SV that most people will never lay a hand on let alone consider buying. We look forward to seeing the differences in how these vehicles go from frame to finished product.
National Geographic Channel to Show How a Lamborghini Is Built (Up to Speed)