Ford Introduces Inflatable Seat Belts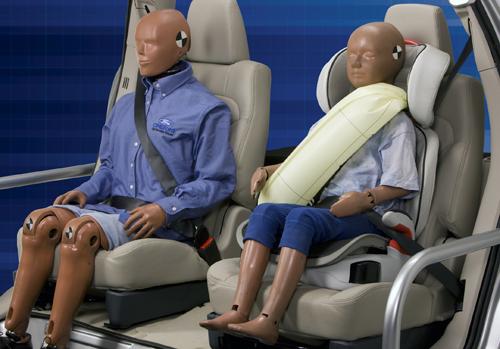 For 20 years we've seen leaps in car-safety innovation from the airbag to electronic stability control. Today, Ford announced one more piece of technology that aims to reduce even more injuries. The company will roll out inflatable seat belts for the rear seats in future models, starting with the next-generation Ford Explorer that's transitioning from a body-on-frame SUV to a crossover when it goes on sale in 2010.
Inflatable seat belts will reduce the trauma that standard seat belts can inflict on both young children and seniors. Ford says the new system will reduce head, neck and chest trauma.
The airbags deploy within 40 milliseconds of a crash; otherwise they work the same as standard seat belts and will be compatible with child-safety seats.
The seat-belt airbags will fill quickly with a cold compressed gas instead of using a heat-generating chemical reaction like traditional airbags.
Ford says the system will be introduced in future models down the line but gave no specifics on when it would hit family-friendly vehicles like the Flex and Taurus.