Magellan RoadMate Navigation: iPhone Review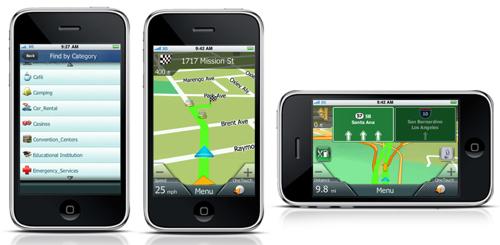 The world of personal navigation devices is rapidly changing, and the big players are adding full-featured software applications for devices that don't bear their names. Magellan is the latest to offer a serious navigation app for the iPhone. It's not cheap, but it'll make you shun those clunky nav units.
What We Like
Rapid auto-fill keypad, Points-of-interests lists are clear and customizable, Uses iPhone contacts, Screen clarity

What We Don't
Huge file size, Slow-moving between screens, No traffic reports, Long loading time
Price:
$79.99 for a limited time Let's face it; a lot of us don't want to spend an additional $2,000 or so to get a navigation system in our new car. Of course others can't live without that level of integration, but they're probably not reading this review anyway. Many folks also don't like device clutter, and adding a separate navigation unit to the cell phone and MP3 player that are most likely in your car's cupholders might seem like too much to handle. That's where an app like RoadMate comes in.
It's priced at $79.99, which will get you a Black Friday deal on an entry-level nav unit with a similarly sized screen. However, the Magellan's ease of use and features set makes it worth some of its hiccups.
Setup and Install
Downloading the 1.7 GB file from the App Store is something you have to do at a computer, not on your device if you want to save your sanity. It took about 45 minutes for my computer to download it. Then it took me a dozen tries to get it synched to my iPhone 3G. Why? Although the App Store says the app is 1.7 GB large, it needed 4 GB of clear space before it loaded. It only takes up 1.7 GB of space once it's loaded; I could add more stuff back on the phone afterward, but I don't know why it needed such a large buffer for installation.
My first attempts at navigating the app were extremely glitchy, so I restarted the phone and all was well.
Maps
The maps are exceptionally clear and crisp with a light green background color. The nighttime setting has a black background, and the app switches automatically between the two settings depending on the time of day, which is nice. The night setting can be turned off if you don't mind the green glare in a darkened car.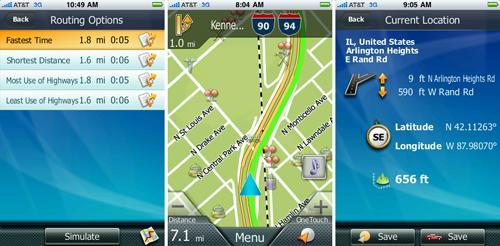 RoadMate can be viewed in both a vertical and horizontal orientation, as well. I preferred the vertical look except when coming to highway interchanges where a wider screen would be better.
One big advantage of buying software instead of hardware or even a manufacturer system is it's usually upgradable. Compare this image of the RoadMate screen next to a 2010 Acura RDX's nav screen. While Acura has updated this software in other new models, the RDX's is still from a few years ago; it looks like an antique compared to the RoadMate. Manufacturers rarely upgrade old models' navigation software.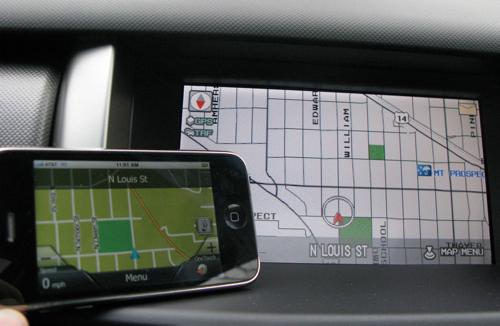 My main problem with RoadMate's maps is my main hang-up with the app itself. You can't put your finger down and scroll around the map area easily like you do on Google Maps. That's how I most frequently use a nav system. I like to see where a location is and then zoom out and scroll around to see if I know the area and can get there without inputting a destination. Weird, I know.
You also can't zoom out very far. It doesn't even tell you the depth, but it looked equivalent to an eighth of a mile. At most, the RDX showed about 1 mile ahead.
My scrolling ways also caused me to drop POI pins in places I didn't want them to be. The app then wanted to route me to the pin, which required a few menu clicks to clear it off. It also did this when using the Back button to the maps, and it dropped a pin for no reason when the map popped back up. That's not good if you're in a hurry or using the app when you're not supposed to — like in traffic.
RoadMate is all about inputting a destination and getting turn-by-turn directions; that doesn't lead to this type of browsing.
Routes & Directions
RoadMate is awesome at giving directions. Inputting an address from scratch is easy because the app's automated fill-in function is fast and accurate, completing street and city names almost instantly. It's much faster than the manufacturer systems I use in our test cars. That's a bonus. The typing screens are more accurate than some of RoadMate's other menu screens, which can be too complex and require too many clicks.
You can also use your iPhone's contact list to add a destination, which is useful and something I'd think any app of this price point would include. You can easily search for a destination or use a point of interest, which is thoughtfully broken down for you in an iPhone-friendly menu. I had no idea there were so many Starbucks within 5 miles of my house.
Once you get your destination set, the app guides you using a straight-forward turn-by-turn approach with voice guidance. You can pick male or female voices, but they're clearly computer generated and not very soothing.
There's also an auto-zoom feature at turns that I found annoying, but it can be turned off. It seems to be the default mode, so be aware.
It did have trouble finding an Ace Hardware store I was going to. It brought up 20 other locations, but not the one I needed to get to which was closer and an established store. Google maps brought it up instantly.
Features
My favorite features were the in-application music player, which accesses your iTunes folders while guidance is ongoing, and a single touch-menu of frequent destinations.
If you plug the iPhone into a car's MP3 jack, both RoadMate's voice instructions and music will play through your stereo. Those of us who don't have USB integration will like this feature. If you have a USB system music will still be indexed normally with the voice for directions added on top. You don't have to use the iPhone controls to control the music like with the analog jack.
The OneTouch menu screen, which is customizable and accessible from the map screen with…one touch, is a stand-out feature. It has all the basics like POIs, hospitals, etc., but you can add icons for work, home or school so they become buttons. This makes a route from a new starting point to a favorite destination much simpler.
For me, the biggest oversight in this release is the absence of live-traffic updates. For my daily commute, I like to see the green, yellow and especially red outlines of traffic flow, so I can pick my route accordingly. If you never need this type of assistance because there's only one way for you to get to work, then it might not be an issue. But if I want to use navigation every day and not just when I'm going somewhere new, so it needs to have this feature. Luckily, live traffic is a likely upgrade in the near future.
Final Score: 7.5
I would give the RoadMate even higher marks if it weren't for the lack of live traffic updates, limited map scrolling and the $79 price tag, which is an introductory price. Besides those flaws — which may not bother other users — this is one smart piece of software that outperforms dedicated nav units at twice the price.