2010 Volkswagen New Beetle Final Edition at 2009 L.A. Auto Show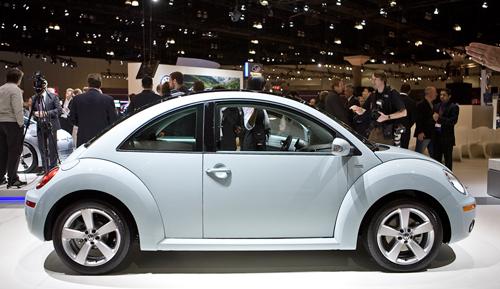 Competes with: Mini Cooper, Mazda MX-5 Miata
Looks like: VW added some badging to an aging design
Drivetrain: 150-hp, 2.5-liter five-cylinder with six-speed automatic transmission
Hits dealerships: Spring 2010
VW is readying the coffin for the New Beetle that debuted way back in 1998. The company showed its 2010 model, called the "Final Edition," which will hit dealerships this spring in coupe and convertible forms. The run will be limited to 1,500 units each. Those should go quickly, as just last month almost 600 New Beetles were sold.
What do you get with the Final Edition? For one, it comes with a special paint scheme. The coupe gets Aquarius Blue for the body and a black roof, while the convertible gets a two-tone Aquarius Blue and Campanella White treatment. Final Editions also get a sport suspension and unique 17-inch wheels, and both will be individually numbered.
How much will all this limited-ness cost you? For a coupe, $20,240, $27,170 for a convertible. More photos below.