2011 Hyundai Sonata at 2009 L.A. Auto Show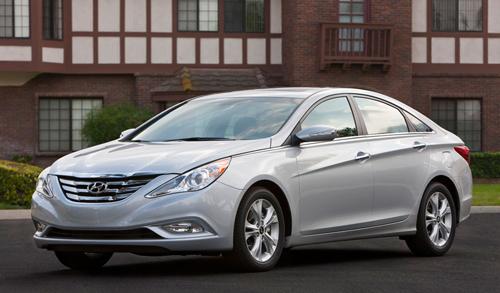 Competes with: Toyota Camry, Honda Accord, Ford Fusion
Looks like: An evil-looking take on the family sedan
Drivetrain: 198-200 hp, 2.4-liter four-cylinder with six-speed manual or automatic transmission
Hits dealerships: January 2010
We already knew about Hyundai's
impressive four-cylinder engine
going into the all-new Sonata, but today the company revealed the full details on the 2011 heading to U.S. dealers next month.
Mileage is impressive at 23/35 mpg city/highway, but what's more interesting is that this Hyundai sedan will turn heads. Yes, it shows glimpses of the Mercedes-Benz CLS-Class and VW CC, yet it's distinctive enough to stand out among its direct competitors like the Camry and Accord.
On top of mileage and looks, the Sonata packs a spacious interior with the most overall interior volume in its class. Like the Accord, it falls in the EPA's large sedan classification -- not midsize -- because it is so roomy inside. The trunk is nearly class-leading at 16.4 cubic feet.
We don't have a full model breakdown in hand yet. However, all Sonatas come standard with XM Satellite Radio, USB port and iPod integration, and Bluetooth connectivity.
A turbocharged 2.0-liter four-cylinder and a hybrid model will be unveiled later in 2010.
More photos below. We'll have more information and first-hand impressions later in the day.