2011 Infiniti M: Up Close
You won't find Nissan's luxury brand, Infiniti, showing new wares at this week's L.A. Auto Show. The brand did have its redesigned M sedan on hand not far from the auto show's home at the Los Angeles Convention Center last night for journalists to see. Christened the M37 and M56
—
reflecting a pair of larger, more powerful engines
—
the M goes on sale next spring. Infiniti revealed the sedan in virtual 3-D at Pebble Beach, Calif.'s Concours d'Elegance last August; this is the first chance we've had to see it up close.
Like the current G35-turned-G37, the M boasts a refined interior and tidy, though indistinctive, styling. While the G saw major improvements to one of its predecessor's lone downsides
—
cabin quality
—
the outgoing M had few such weaknesses. Its successor's differences feel more evolutionary: improved controls here, more efficiency there. The new M is as competitive as ever, and it's good to see Infiniti didn't wander off into some creative new wilderness to make it happen.
However, I'm not nuts about the car's styling.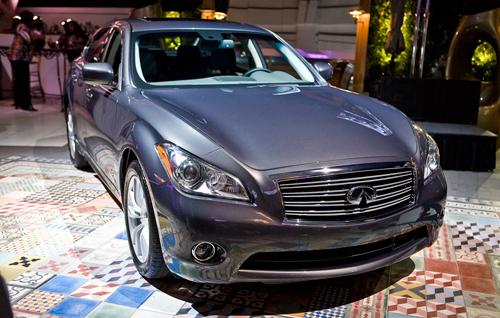 In its day the outgoing M was one of the sharpest cars in its class. It had edgy flanks and a nose that commanded attention amid the dozens of Mercedes and Lexus sedans crowding any Whole Foods parking lot. This M's tail is a nice, but its face is forgettable. The lowered grille emulates the Nissan Maxima's charging-animal stance — the cars have unrelated platforms — but the M's headlights, bumpers and general profile feel like they've entered one too many wind tunnels.
I'm more bullish about the sedan's cabin. Like before, the dash falls away from the driver to create the perception of space. Controls and finishes generally feel high-rent, and the navigation system augments Infiniti's knack for these things with better graphics and a directional control knob. The glove compartment and center console both feel generous for a midsize sedan; conversely, the trunk does not.
Backseat room is decent. With a 6-foot-3-inch man sitting in his regular driving position up front, I had ample legroom and decent headroom in the second row. Still, adults may wish for more thigh support from the short backseat cushions.
A longtime Cars.com favorite, the outgoing M came up strong on driving dynamics, cabin comfort, reliability and safety. Last night, Infiniti Vice President Ben Poore told journalists that for today's cadre of luxury buyers, "It may not be about accepting the same old brands and status quo." This was a not-so-veiled jab at the segment's perennial leaders, the BMW 5 Series and Mercedes-Benz E-Class. Both cars have been redesigned for 2010 or 2011. Those are typically withering conditions for any rivals to pick up steam. But if the M can keep its predecessor's credentials and deliver on a few more, Infiniti might be able to do just that.