2011 Mercedes-Benz E-Class Cabriolet: First Look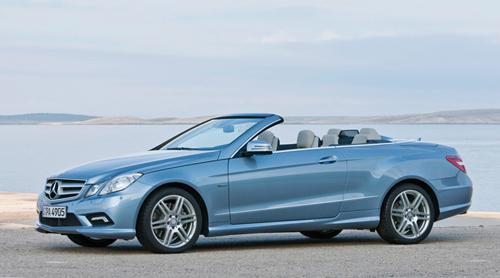 Competes with: BMW 6 Series
Looks like: Mercedes is building on the success of the E-Class sedan
Drivetrain: 268-hp V-6 or 382-hp V-8
Hits dealerships: May 2010
Mercedes' new E-Class convertible sure will go on sale at the right time. Starting in May, droptop fans will be able to buy the all-new E-Class Cabriolet with either a 268-horsepower V-6 in the E350 or the 382-hp V-8 in the E550. All too often we see a hot new convertible go on sale in the fall, right in time to enjoy it from the comforts of a garage.
The new E-Class sedan has been a hit for the luxury brand, almost single-handedly boosting sales as the year winds down. The coupe followed, and now it seems the convertible continues the design's overall handsome look. Larger, four-seat convertibles like this aren't the norm these days.
The E-Class Cabriolet will sport the latest version of Mercedes' Airscarf technology, which is a vent that's built into the front headrests and pushes warm air around the neck. This allows more enjoyable top-down driving in chilly weather; we've tested the previous version, and it's never been that impressive.
The E-Class has a new feature Mercedes is calling the Aircap, which is basically an integrated diffuser that doesn't sully the car's lines.
What about the top? Well, it's a soft-top, folks. If you were looking for one of those cool, retractable hardtops you'll have to stick to the SLK or SL in the Benz lineup. However, soft-tops usually have advantages like less weight and faster closing times. Mercedes says this one will close in less than 20 seconds and at speeds of up to 25 mph, so if you start the process at a stoplight you can go on green and finish up if you have to. The trunk is 13.8 cubic feet with the top up; it only loses 3.2 cubic feet when it's down, which isn't awful.
Pricing hasn't been announced, but we'd expect it to be significantly higher than the coupe's $48,050 starting price. Think mid-$50,000 range. More photos below.