2011 Toyota Sienna at 2009 L.A. Auto Show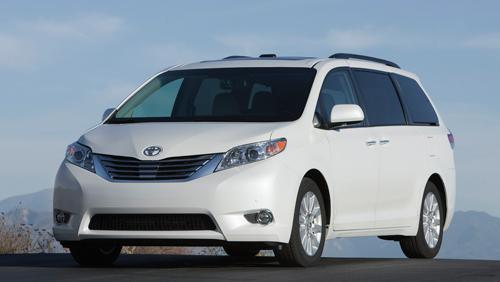 Competes with: Honda Odyssey, Kia Sedona, Chrysler Town & Country
Looks like: Toyota is going all-in with its new design first seen on the Venza
Drivetrain: 187-hp, 2.7-liter four-cylinder or 266-hp, 3.5-liter V-6; six-speed automatic transmission, optional all-wheel drive
Hits dealerships: February 2010
The current Sienna remains one of the most competent vehicles in its class, and it recently won a Cars.com faceoff. Today, Toyota debuted an all-new Sienna that ups the ante in this family-friendly segment.
First, there's the new look. The Sienna gets all-new sheet metal with a front grille right off the Toyota Venza crossover; overall, it looks quite futuristic. The interior borrows design elements from both the Venza and the new Prius and should share their upscale feel.
The new Sienna can seat seven or eight depending on cabin configurations. Even with the third row in use, the automaker says owners can store up to five golf bags in the cargo area. There are also numerous cubbies, cupholders and storage areas scattered throughout the interior.
Powertrain options also mimic the Venza, with a four-cylinder now being offered that Toyota says will return 19/26 mpg city/highway. A 266-horsepower V-6 will return 18/24 mpg or 16/22 mpg when teamed with all-wheel drive, which is optional on LE, XLE and Limited V-6 trim levels. A Base trim level is also offered with both engines.
Standard features on all Siennas include cruise control, trizone air conditioning, automatic power windows with a feature to prevent limbs from being caught when windows are raised, CD stereo system with four speakers, MP3 jack and three 12-volt outlets.
Other models add leather, backup camera, rear sunshades, premium audio, power sliding doors, Bluetooth, USB port and a nifty second-row entertainment system that can be viewed in a single widescreen mode or split into two screens for two different video sources.
More photos below and our up-close look will be coming soon.