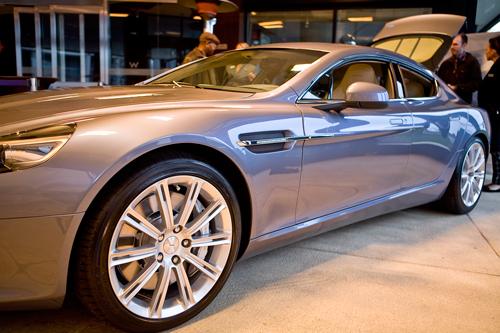 Aston Martin, the British builder of exclusive coupes and convertibles, is the latest sports-car maker to try its hand at a four-door car. Aston's entry is called the Rapide, and it's slated to hit U.S. dealerships in May 2010 with a starting price around $200,000. I recently had the opportunity to check out the only Rapide currently in existence, and it's clear the graceful style that's come to define Aston Martin sports cars has been successfully translated to this car.
 
Some people might wonder why Aston Martin needs a four-door car. One of the goals with it is to enhance the brand's year-round appeal, according to Beth Paretta, an operations manager for Aston Martin North America. It's a "car that [customers will] use more than as just a Sunday-driver," she said.
 
One car that instantly comes to mind when considering the Rapide is Porsche's new Panamera four-door hatchback, but I like the Aston's styling much better. Whereas the Panamera tries to pull off a stretched-911 look, the Rapide retains the low-slung design and sleek lines of the automaker's sports cars. Even though it looks like a sedan in profile — albeit a sporty one — the Rapide is actually a hatchback like the Panamera; its rear decklid and rear window open as a unit.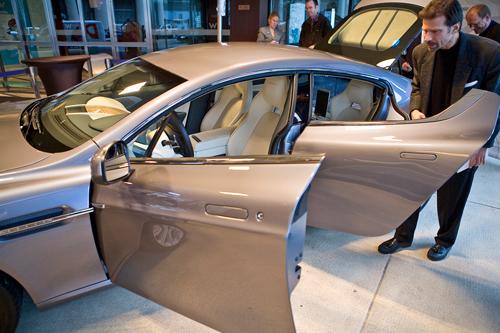 The Rapide's doors rise upward slightly as you open them, which is a cool trick, but the cockpit is pretty snug; front legroom is adequate, but the car's low roofline comes really close to your head. The two-person backseat is tight for taller adults, especially in terms of legroom. It's much less roomy overall than the Panamera's backseat. Both cars have a center console that separates rear passengers, but the Rapide's is much larger.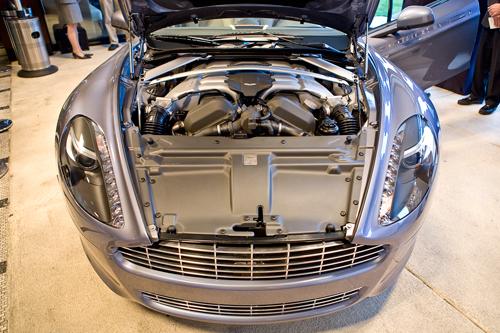 Under the Rapide's long hood lurks a 6.0-liter V-12 that makes 470 horsepower at 6,000 rpm and 443 pounds-feet of torque at 5,000 rpm. The hand-assembled engine teams with a six-speed automatic transmission that includes paddle shifters on the steering column, and Aston Martin claims the car can sprint from zero to 60 mph in 5.1 seconds. Unlike many cars that hide their engines under a sea of plastic panels, you have a good view of the Rapide's V-12 when you pop the hood, and it looks great.
 
If you've just hit the jackpot in Vegas and want to put a Rapide in your garage it won't be as easy as finding your nearest Aston Martin dealer. Customers will have to order their Rapide, according to Paretta, though demonstration models will be available at dealerships for test drives. Delayed gratification is such a drag.


Besides its good looks and performance potential, exclusivity will be a key selling point for the Rapide. I've already spotted a Panamera in the downtown Chicago parking garage we frequent with test cars, but I suspect it's going to be some time before I see a Rapide parked there, if ever.

More Photos