2010 Acura ZDX at the 2009 New York Auto Show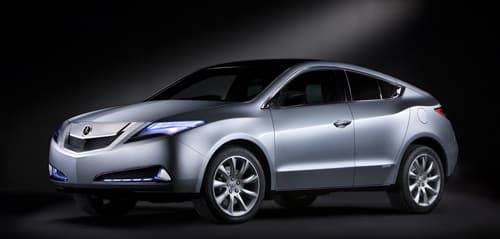 Looks like: Acura saw the BMW X6 and said, "We've got to have one of those!"
Defining characteristics: Hatchback body style, Acura's not-going-away grille
Ridiculous features: Acura hasn't given up on the new grille
Chance of being mass-produced: Goes on sale this fall, so 100%
Honda and Acura don't often roll out concept cars. Instead, they reveal prototypes that closely resemble upcoming production vehicles. That's definitely the case with the Acura ZDX crossover concept. The company announced today it will indeed go on sale this fall. We'd guess the first look at a final version will be at a press event shortly before the car goes on sale.
What will that production ZDX be like? It'll feature a V-6 engine, six-speed automatic transmission and Acura's Super-Handling All-Wheel Drive along with 20-inch wheels, which we'd guess will be standard.
The company also promises an upscale cabin beyond what's in current Acuras. High-tech features will include a blind spot detection system and multi-view rear camera. It will also have a panoramic glass sunroof, as all luxury crossovers must have these days. 
As for the styling … we're not sure if the BMW X6 is really something to emulate.
Unfortunately, the ZDX's best angle, the rear, isn't represented well in Acura's supplied press photos below. We'll have more live shots later today.