2010 Mercedes-Benz E-Class Cabriolet: Up Close
Under the auto show lights in Detroit, the Mercedes E-Class Cabriolet looks great with the top down, especially the blue E350 on display. The E550's black paint hides the model's tasteful sheet-metal details too much. The top-up look isn't bad, either — good roofline.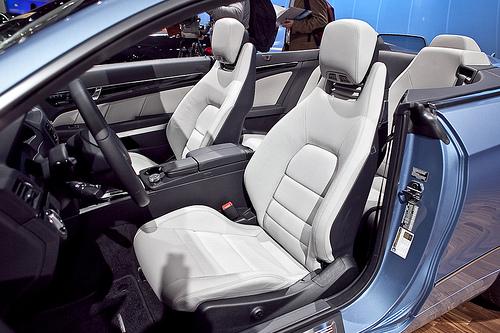 The interior quality is good, but it's closer to the E-Class coupe than the E sedan, which has a classier interior. The backseat space is roughly the same as that of the coupe, which means I struggled to get in there and found it confining but workable for short trips if the front occupants are kind enough to share some legroom. Obviously, the headroom problem goes away when the top's down, and the magic of a convertible makes you care less about things like legroom.
Mercedes made an improvement to Airscarf, the optional feature that blows warm air at the back of your neck from just under the head restraint: There's now a thumbwheel like you'd find on a dashboard vent so you can direct the air up or down. The feature uses electric heat so it warms up faster than the car's ventilation, Mercedes says. The new Aircap option is also pretty slick. You just push a button on the center console, and a spoiler moves forward and up from the top of the windshield frame. This directs the rush of air higher over the cabin. At the same time, the rear head restraints raise, along with a windscreen to keep the air from blasting the back of your passengers' heads. It happens in a few seconds, and you hardly notice either action.