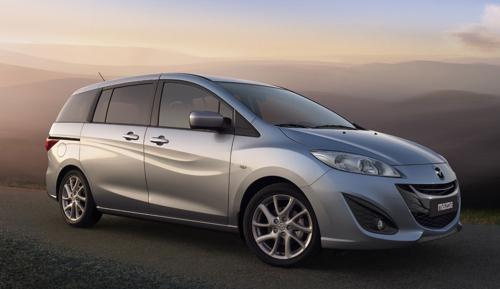 Competes with: Kia Rondo
Looks like: A small minivan big on style
Drivetrain: 2.0-liter four-cylinder engine
Hits dealerships: Late 2010
Mazda's wild design that landed on the new Mazda3 compact has struck the Mazda5 small van, too. The new model gets a similar big-mouth smile for a grille and flowing lines down its side. Around back, the rear window actually dips down to a point, which is unique compared with anything on the market. Even the wheels and their organic, asymmetrical style scream design student run amok. But in a good way. For a vehicle that is all about practicality, the Mazda5 looks anything but utilitarian.
Powering the Mazda5 will be a 2.0-liter engine, replacing the current model's 2.3-liter. Exact power numbers haven't been released, and we don't have details on an automatic transmission — the manual is a six-speed, however — so we're unsure about what to expect in terms of mileage or power. The current Mazda5 can feel considerably underpowered, especially with a full load.
The 2011 gets a new interior that looks to be a significant upgrade and features the same tilted upper-dash readout as the Mazda3. The second row features a middle seat that can convert into a storage bin, and the third row can accommodate two people, making this one of the few small vehicles that can seat seven people.
Specific details, including mileage, should be released when the car debuts at the Geneva Motor Show in March. For now, check out a few more images below.