Cadillac CTS Wagon Gets Price Drop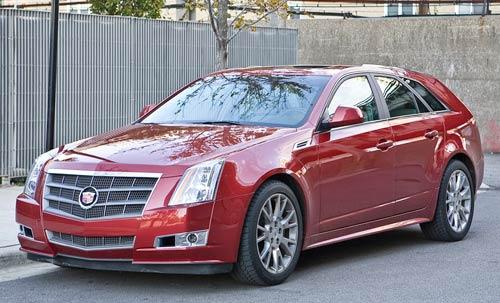 The automotive market is competitive enough without a company pitting its own products against each other. This is what led Cadillac to slash the price of the new 2010 CTS sport wagon earlier this month. It turned out the CTS was butting heads with the redesigned Cadillac SRX crossover.
According to Cadillac, buyers would see the price of the SRX and promptly lose any interest they had in the CTS sport wagon. The base CTS sport wagon model was $40,485 and now has been scaled back to $39,150, while the SRX starts at $34,155. (All prices include destination fees.) A loaded all-wheel-drive SRX runs about $50,000.
The problem may not be the pricing so much as what buyers see in each model, which, apparently, is that they are the same and one is cheaper than the other. The CTS sport wagon is new for 2010, and in introducing it, Cadillac may have inadvertently set itself a major hurdle. It saw the SRX crossover as a vehicle that would primarily be bought by women, while men would buy the CTS sport wagon. We predicted this exact issue when the two debuted side by side at last year's Detroit auto show.
We'll see if the price adjustment clarifies who is supposed to be buying what Cadillac, and if American shoppers will ever select a wagon over an SUV.
GM's Cadillac Cuts CTS Sport Wagon Price to Avoid Conflict With SRX Crossover (DriveOn)