2010 Subaru Outback: Love/Hate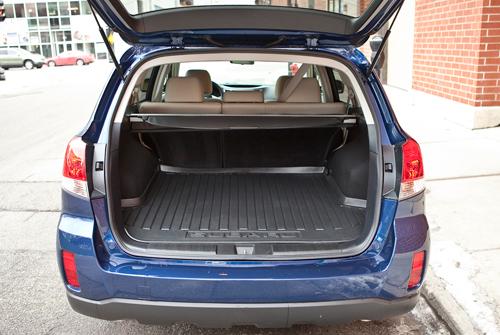 My husband and I have officially begun the sometimes-intimidating process of shopping for a new car. If you visited Cars.com over the summer, you likely saw my 11-year-old SUV on the homepage illustrating the government's Cash for Clunkers program. My car is one major repair — or one major pothole — away from becoming a trade-in.
Because of positive reviews from a couple of Cars.com co-workers who own new Subaru Outbacks, the all-wheel-drive wagon has crept onto our shortlist. To say I was looking forward to spending a long weekend driving the Outback is an understatement.
Love:
Cargo area
The cargo area of the Outback is spacious without making the car look like a grocery getter; there were no flashbacks to '80s wagons here. The 60/40-split folding rear seats are standard, increasing the space dramatically without eliminating all the rear seats. Also standard across all trims (in the cargo area only) is the all-weather mat, which is a huge plus in my book. You don't even want to know what the carpet in the back of my SUV looks like after multiple interstate moves and Christmas tree hauling.
Hate:
Um, uh ... I'll get back to you
I can nitpick with the best of 'em, but I really struggled to come up with something I hated about this car. Now that doesn't mean there's nothing wrong with this car — one co-worker mentioned disliking the lack of folding side mirrors, and another had some qualms with the stereo system. In the limited time I had this car, though, there just wasn't anything that jumped out at me. It looks like the Outback may get to stay on our shortlist for now.