Kia Ray Plug-In Hybrid Concept at 2010 Chicago Auto Show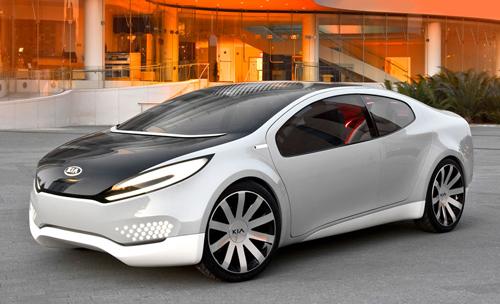 Looks like: A futuristic — and slightly melted — Forte Koup
Defining characteristics: Plug-in hybrid drivetrain, solar cells in roof, movable rear spoiler
Ridiculous features: Movable headlights, mesh seats
Chance of being mass-produced: Unlikely in this form, though Kia plans to debut its first alternative-fuel powertrain soon
The Kia Ray concept is based on the automaker's current Forte compact car, but it features a plug-in hybrid powertrain designed to travel on electric power alone for up to 50 miles before working as a traditional hybrid. Kia will launch its first alternative-fuel powertrain soon, though it's unclear if it will be a plug-in hybrid like the one in the Ray.

The Ray's sleek front end doesn't have a traditional grille, but it does have movable headlights that retract so air can cool the gas engine when necessary. The front end is in contrast to the rear, which is quite tall and a lot chunkier. Kia says the design reduces drag, and a rear spoiler deploys at higher speeds to make the concept even more slippery through the air.

Solar cells in the roof can power a fan to keep the cabin cool when the car is parked, a feature similar to an option Toyota offers on its Prius hybrid. The mesh seat fabric in the concept would go a long way toward keeping occupants cool, too.

And in a sign of just how pervasive the greening of the automobile has become, the Ray has the GreenEdge audio system, which features speakers that use less power.
More photos below.