Man Finds $200,000 in Fake Bills in Used Car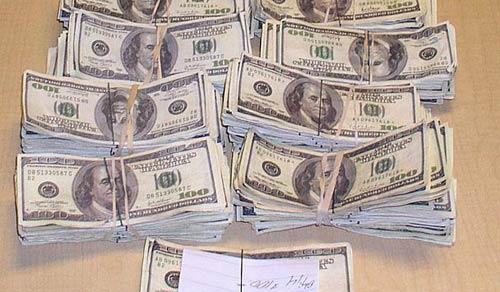 Buying a used car always comes with a bit of risk, but who would think it might come with the risk of finding a bundle of forged money?
After smelling a gas leak in his 2000 Buick, Tye Kuykendall of Ball Ground, Ga., searched for the source of the odor but instead found a secret compartment behind the backseat that contained $200,000 worth of fake $100 bills.
Perhaps he'd seen the Bill Paxton-Billy Bob Thornton movie "A Simple Plan," because instead of keeping the money, Kuykendall immediately figured it was either forged or connected with drug dealers — either way, bad news. He called the Cherokee County Sheriff's Office and turned over the money, which indeed did turn out to be counterfeit.
The sheriff's office called in the U.S. Secret Service, and they are now looking for the previous owner of the vehicle, which sat in an impoundment lot for three years before Kuykendall bought it at auction for $400.
Kuykendall figures the previous owner must have created the gas leak intentionally to throw off drug-sniffing dogs. He also told the Atlanta Journal-Constitution that after putting some work into the Buick, it's now running great.
Man Buys Car, Finds $200,000 in Counterfeit Money Inside (Atlanta Journal-Constitution)