Toyota Answers Questions, But Shows the Products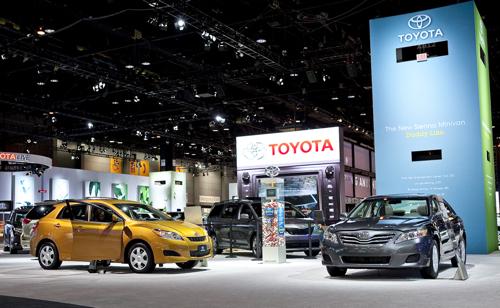 At Chicago's sprawling McCormick Place, Ford's bright-blue display extols gas mileage and horsepower in oversized block letters. Not 10 feet away, Toyota's area looks exactly the opposite. It's an assemblage of Siennas, 4Runners, Camrys and more, all camped beneath a gray and white photographic backdrop: wind turbines, geese, birch trees. Compared to Ford, Toyota's display seems a bit reserved.
A sign of the times? Not really. That's the sort of atmosphere you would have seen last year at the Chicago Auto Show, well before the recalls came into play. Company officials say they didn't change the tone here because during the consumer show, Toyota still has a job to do: show the cars, generate interest, sell the cars.
At this week's media preview, the automaker unveiled the refreshed 2011 Avalon, but Toyota division manager Bob Carter bookended the presentation with comments on the automaker's latest recalls. Given the timing, Toyota had even considered postponing the Avalon's introduction, Carter said. (Like other 2011 Toyotas, the model employs several retrofits, including a brake override system, to mitigate unintended acceleration.)
Toyota went ahead with the unveiling, he said, because "at the same time we believe that it's new vehicles like the new Avalon and the new Sienna" that will lead consumers back toward the brand.
So when the Chicago show opens to the public, expect Toyota personnel to stand tall and show the automaker's latest cars.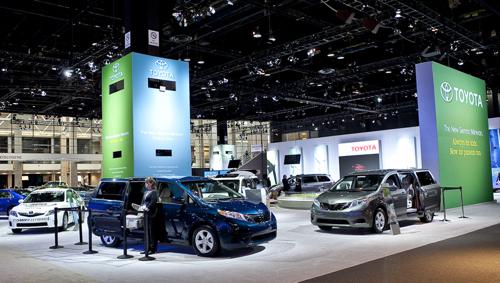 "The shows, except for the media days, are for the consumers," Toyota spokesman Greg Thome said. "The new products and concepts are still what the consumer days are all about." The Chicago show opens to the public Feb. 12 and runs through Feb. 21.
What about the possibility of hecklers,
which GM and Chrysler presenters faced at last year's New York auto show after they filed for bankruptcy
?
"It's certainly possible," Thome said, but "everyone at Toyota wants to reiterate how sorry we are that this has caused so much concern."
Thome said presenters during the show's public days are aware of recall details "in a general sense" but will direct anyone with specific questions to
go online
or contact Toyota's customer service number – which, by the way, is 800-331-4331.
So don't head to the show expecting on-the-spot mea culpas from Toyota presenters on revolving displays.
The automaker's latest TV ad
does plenty of that. The consumer show is about the products, and for Toyota, that show must go on.