2011 Hyundai Sonata Hybrid at the 2010 New York Auto Show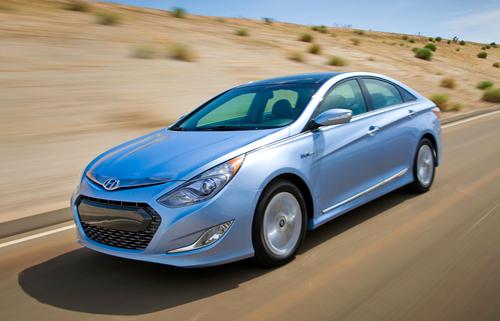 Competes with: Ford Fusion Hybrid, Toyota Camry Hybrid
Looks like: The Sonata got a major nose job
Drivetrain: 2.4-liter gasoline engine and 30-kW electric motor with 209 hp combined; six-speed automatic transmission, front-wheel drive
Hits dealerships: Late 2010
If the all-new Sonata's design and highly efficient gas engine weren't enough to signal Hyundai's arrival as a major player on the automotive landscape, its just-announced Sonata Hybrid shouts it from the mountaintops.
The 2011 Sonata Hybrid, set to go on sale at the end of this year, combines a 2.4-liter Atkinson Cycle four-cylinder with a 30-kW electric motor for a total output of 209 horsepower, which is nominally more than the base four-cylinder Sonata's output. Hyundai says overall gas mileage will be 37/39 mpg city/highway; that puts it ahead of the Toyota Camry Hybrid's 33/34 mpg and just short of the Ford Fusion Hybrid's 41/36 mpg.
A litany of visual changes versus the regular Sonata include a large, hexagonal front air dam, unique headlights and taillights, new side sills and the requisite hybrid badges. Hyundai will call its hybrid technology Hybrid Blue Drive, which is a marketing parallel to Toyota's Hybrid Synergy Drive.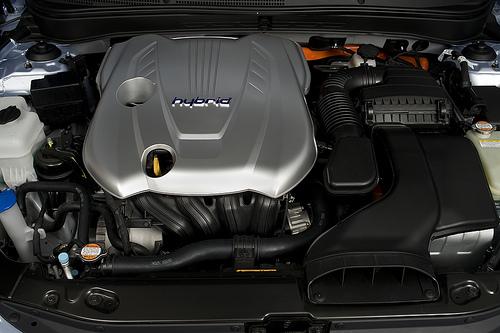 Inside, an LCD screen bounded by the gauges shows energy flow between the various drivetrain components, as well as indicators for electric mode, battery charge and gas mileage. Get the optional navigation system and it shows a more robust version of all this. It wouldn't be complete without some hokey way of diagramming your efficiency, though: The Fusion Hybrid does this with pictographic Efficiency Leaves, and Hyundai's answer is an Eco Level scoring system. It displays a sky that turns an earth-happy blue if you drive more efficiently. Lead-foot around too much and the sky reverts to a smoggy gray.
A couple mechanical details are worth pointing out. First, the Sonata Hybrid uses a conventional six-speed automatic transmission instead of the CVT-like electrically variable transmissions most competing hybrids use. This isn't to say the Sonata Hybrid is a "mild" hybrid like the erstwhile Chevy Malibu Hybrid. Rather, like the Camry Hybrid and Fusion Hybrid, it can accelerate on electric power, engine power or a combination of the two, spokesman Dan Bedore said. Hyundai says the Sonata Hybrid can move at speeds up to 62 mph on electric power alone. That beats the Fusion Hybrid's 47 mph top EV speed, but we suspect that, like in other hybrids, achieving such conditions requires featherweight pressure on the accelerator — and a line of peeved drivers behind you.
Second, the Sonata Hybrid uses a lithium-polymer battery that's 40 percent smaller and 10 percent more efficient than the nickel-metal-hydride batteries used in virtually all other hybrids, according to Hyundai. Like many hybrid batteries, Hyundai's sits at the forward section of the trunk, and it cuts trunk volume some 35 percent. Trunk volume is 10.7 cubic feet, down from 16.4 cubic feet in the non-hybrid Sonata. That's competitive with the Camry Hybrid; the Fusion Hybrid's trunk is a slightly larger 11.8 cubic feet.
Other hybrid fare includes regenerative brakes, engine shutoff at idle and more efficient electric air conditioning. The hybrid marks the third — and presumably final — engine for the redesigned 2011 Sonata. Others include a 2.4-liter four-cylinder base engine offered at the car's launch, as well as a turbo 2.0-liter four-cylinder for drivers who want V-6-like oomph. The turbo hits dealerships about the same time as the hybrid.
No pricing information is available yet, but expect Hyundai to price the Sonata Hybrid competitively with the Fusion Hybrid ($27,950) and Camry Hybrid ($26,150). One advantage: Hyundai has yet to sell any hybrids, so whatever federal tax credit the Sonata Hybrid qualifies for will be long-lived. Under current legislation, any automaker can sell 60,000 hybrids before its tax credits phase out. Toyota's hybrid credits phased out long ago; Ford's credits will do so, as luck would have it, tomorrow.