2011 Volkswagen Touareg: Up Close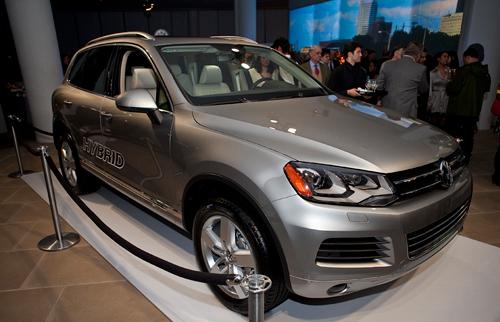 We're at the first U.S. unveiling of the redesigned 2011 Volkswagen Touareg, and it's easy to see this all-new SUV has a sense of style.
From the rear, some might mistake the new Touareg for a Q5 from sister brand Audi; the taillights trade the old Touareg's affable circular lights for more Audi-like creases. Its profile isn't far off that of the outgoing Touareg – from the rear-quarter or side, many passersby could mistake the two. The major visual difference is up front, where the grille and front air dam adopt a similar design to the Golf/GTI and nose-jobbed Jetta wagon. It's a sharper look, but I don't find it as distinctively VW as the waterfall nose that the brand's remaining models still have.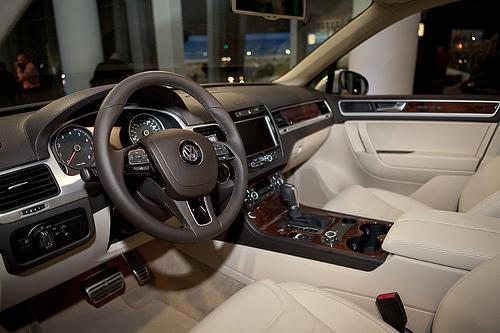 Volkswagen didn't allow journalists to actually sit in the seats — something about red wine and a cream interior, despite the fact we weren't drinking — but we got to take a look at the interior materials while standing outside. The cabin looked good, and the dash is vastly cleaner than the last Touareg's button-strewn collection. There's more rear legroom in back, a product specialist said; alas, I couldn't examine this for myself.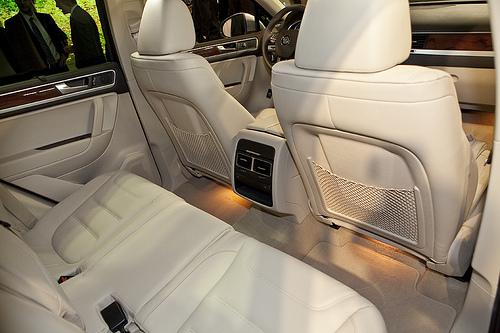 Like in the ML450 Hybrid, the Touareg Hybrid's battery pack nestles where a spare tire would sit — run-flat tires are standard — meaning cargo volume remains the same. The rear seats now fold in a single step, and now offer both a manual or power option. That beats the old Touareg, which required removing the head restraints and flipping up seat cushions to fold the wretched things down.