Ford Beats GM on Strength of SUVs, Trucks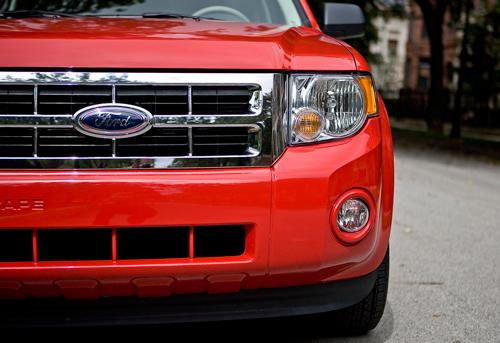 Yes, Ford overtook GM in February as the country's best-selling auto company for the first time since 1998, but it didn't do it by selling a fleet of Fusion Hybrids (
Cars.com's Best of 2010 award winner
). No, it beat GM by a mere 334 units with strong sales of its F-Series pickup and the Edge crossover and Escape compact SUV.
Toyota's sales decline in February gave the two domestic brands a chance to grab the sales spotlight, but those vehicle sales are still dominated by trucks and now crossovers. If you add their GMC siblings to the mix, Chevy's full-size SUVs like the Tahoe and Suburban sold at about the same rate as Ford's Explorer and Expedition. And all are well behind the top sales they reached before $4 gas two summers ago.
Sedans? The Chevy Malibu sold 15,150 versus the Ford Fusion's 16,459, a narrow win for Ford. But the Chevy Cobalt outsold the Ford Focus, 14,101 to 13,708. The Chevy Camaro outsold the Ford Mustang by 6,482 to 5,115, and the fleet-heavy Chevy Impala outsold the almost exclusively retail Ford Taurus 11,740 to 6,359.
And those are just the two mass-market brands for each company: GM's Buick, Cadillac and GMC outsold Ford's Lincoln, Mercury and Volvo brands.
What pushed Ford over the top was the Ford F-150. With nonstop advertising, lots of incentives and — perhaps most importantly — good reviews, the F-150 outsold the Chevy Silverado and GMC Sierra a combined 32,895 to 26,118.
Crossovers like the Ford Edge — which gets a major update this summer — sold 8,694 units, and the three-row Flex sold 2,802 units. On the Chevy side, there is no true competitor for the Edge since the TrailBlazer was phased out, but the three-row Traverse (which competes with the Flex) sold 5,882 units. Just a few months ago, the Traverse was selling better, but increased incentives for its sibling GMC Acadia likely hurt its sales. The slightly more expensive Acadia outsold the Traverse, moving 6,478 units.
On the small SUV side, the aging Ford Escape managed to sell well with 15,156 units. The all-new Chevy Equinox and its GMC Terrain sibling are selling well, and there isn't enough supply to meet demand. The two sold 11,850 units combined.
These are the types of models where Ford is winning. However, a boost in supply of just the two smaller GM crossovers could sway the total back into GM's favor.