Toyota Recalls: Where They Stand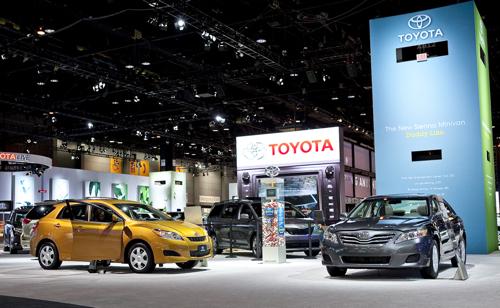 This week's news of two Toyota Prius hybrids experiencing alleged sudden acceleration has reminded us that Toyota hasn't tackled every car it has recalled. To date, Toyota says of the 5.7 million vehicles included in the various recalls, more than 1 million have been repaired.

The 5.7 million figure is the total vehicles affected by the recalls and not the total number of recalls issued; nearly 1.7 million vehicles overlap between the two accelerator-related recalls. It also includes the nearly 150,000 Prius and Lexus HS 250h hybrid recalls due to faulty brakes. Toyota was not able to provide a breakdown of each recall's repair rate.

Toyota spokesman Bryan Lyons says that while the first recall over floormat entrapment was issued in early November, the company only started to implement fixes in January, and it views completing more than a million recall-related repairs in the past two months as "phenomenal numbers."

Lyons did say that the fixes for the Prius and the other models in the first floormat recall will be developed and implemented throughout 2010.

So far, only the 2007-10 Toyota Camry, the 2005-10 Toyota Avalon and the 2007-10 Lexus ES 350 have a solution devised and are being worked on at dealerships. Lyons says that makes up 50% of owners involved in the floormat recall, which was for 5.3 million vehicles. Meaning, even if every repair to date were for just those three specific models that would leave roughly 1.5 million owners, who are able to receive repairs, without them. Obviously, the number is much more than that. The other 50% of owners, which would be 2.6 million, still waiting on a fix to be even developed include:
2004-09 Prius
2005-10 Tacoma
2007-10 Tundra
2008-10 Highlander
2009-10 Corolla
2009-10 Venza
2009-10 Matrix
2009-10 Pontiac Vibe
2006-10 Lexus IS 250 and IS 350
The more recent recall over sticky accelerator pedals included 2.3 million vehicles and does have a fix. However, even if the more than 1 million repairs made were for this specific recall that leaves more than half of the recalled vehicles without the new shim. If you're one of the owners of the vehicles below, you should contact your Toyota dealer immediately to schedule service.
2009-10 RAV4
2009-10 Corolla
2009-10 Matrix
2005-10 Avalon
Certain 2007-10 Camry models
2010 Highlander
2007-10 Tundra
2008-10 Sequoia
2009-10 Pontiac Vibe