2011 Chevrolet Cruze: First Drive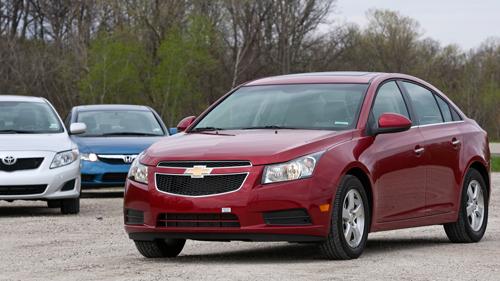 It's hard to overstate the importance of Chevrolet's new Cruze global small car, which will eventually be sold in 60 markets around the world, arriving in the U.S. this September. With strict fuel economy rules on the way, GM needs a small car that can run with the best in the segment, and after driving a few preproduction examples of the Cruze, I think Chevrolet has such a car — and more. The Cruze offers sprightly performance; a hushed, relatively roomy cabin; impressive handling poise; and a bit of fun when equipped with the six-speed manual transmission and the optional turbocharged four-cylinder engine.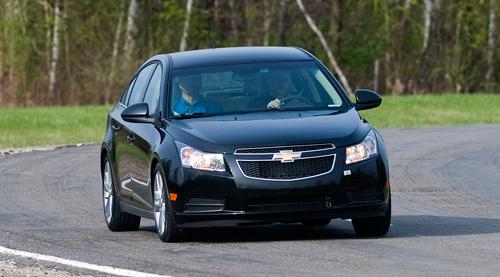 Chevrolet hosted journalists at its Milford Proving Grounds in Michigan to drive the Cruze, and it said the cars on hand were 85 percent to 90 percent representative of the upcoming production model. The final tuning of the mechanical components is mostly done, but interior fit-and-finish issues were still being addressed.
I had the chance to take brief drives in three versions of the Cruze: one with the Touring suspension and an automatic transmission, another with the Sport suspension and an automatic, and a Cruze Eco with the six-speed manual. All of the cars were powered by the turbo 1.4-liter four-cylinder. (A 1.8-liter four-cylinder is standard.)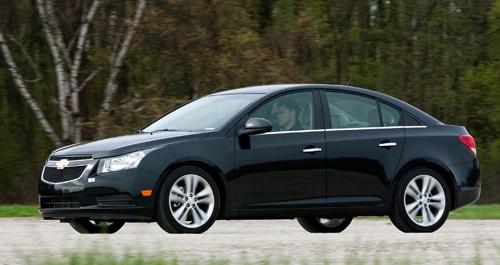 One of the most impressive qualities of the Cruze is its quiet cabin, which does a good job isolating you from outside noises. It's so quiet, in fact, that I found myself going faster than I thought because I wasn't hearing the kinds of noises that usually remind you of your speed. The suspension is impressively quiet, too. It doesn't exhibit any noisiness when traveling over bumps like some systems.
Like its big brother, the Chevrolet Malibu, the Cruze also strikes a nice balance between ride comfort and handling. The Touring suspension is taut, but it's not overly sensitive to road surfaces to the point that you feel every little imperfection, which is sometimes what it feels like when driving a car like the Honda Civic. The Cruze's suspension also does a good job managing the car's rebound when traveling over a big dip in the road. The Sport suspension, which features 15 percent higher spring rates and a 5 millimeter lower ride height, felt slightly firmer, but the car's 18-inch wheels could have played a role, too.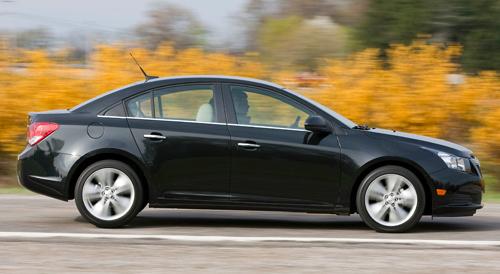 I liked the smooth-revving turbo 1.4-liter four-cylinder, which is rated at an estimated 138 horsepower at 4,900 rpm and 148 pounds-feet of torque at a low 1,850 rpm. Interestingly, there's nothing in the driving experience that would make you think there's a turbo under the hood — there are no characteristic sounds of a turbo spooling up or a noticeable boost in power at a certain engine speed. In reality, it feels quite a bit stronger across its rpm spectrum than its small displacement would suggest, and when teamed with the six-speed manual I tested in the Eco model, it transforms the Cruze from a relatively engaging small car to one that could be an enjoyable companion on a winding back road. The clutch pedal is light and the shifter features short — if slightly murky-feeling — throws. The Eco model is around 125 pounds lighter than a regular Cruze, which helps it get a 40 mpg highway rating but provides performance benefits, too.
However, the Cruze's power-steering assistance struck me the wrong way. The high level of assistance is nice to have when maneuvering at slow speeds, as you would around a parking lot, but I wish the amount of assist dropped off more as you gained speed. The car responds nimbly, but the steering is so light that it seems like if you sneezed too hard you could send the Cruze off course.
As for the front seats, I didn't have trouble finding a comfortable driving position, and I'm 6-foot-1. Backseat room with the front seat adjusted for me was passable as far as legroom was concerned, but headroom was good. There isn't much thigh support for taller folks because you sit with your knees elevated.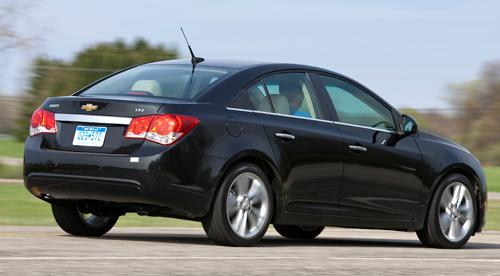 As with recent redesigned versions of the Malibu sedan and Equinox small crossover, the Cruze makes Chevrolet a contender in a segment where it had previously been an afterthought. The question, though, is how long it will stay that way. Ford has an impressive-looking redesigned Focus that's scheduled to arrive in early 2011, and a thoroughly redesigned Civic can't be far behind.
Though it's never a given that a redesigned version of an existing car will be better than the current one, that's often the case, and that will put more pressure on the Cruze in the years to come. Right now, though, it performs like a car that other automakers in this class should be benchmarking. Considering where Chevrolet has been in the small-car segment in recent memory, that's a remarkable accomplishment.