As a GPS Device, Motorola Droid Shines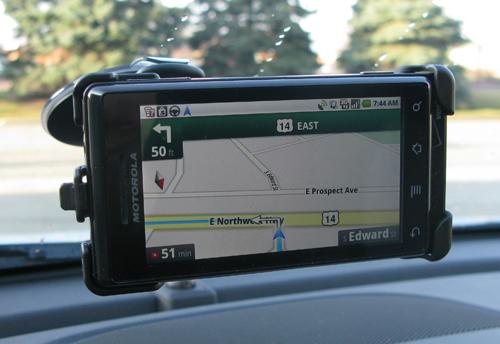 The Motorola Droid promises a lot of features that aren't available on Apple's iPhone, but the one that stands out is Google Maps Navigation, a free mobile application that runs on Google's Android operating system.
Unlike the maps on the iPhone, Google Maps Navigation has the same bells and whistles you'd find on standalone GPS units and expensive iPhone apps, plus a few surprises the others don't have. It's in an interesting package.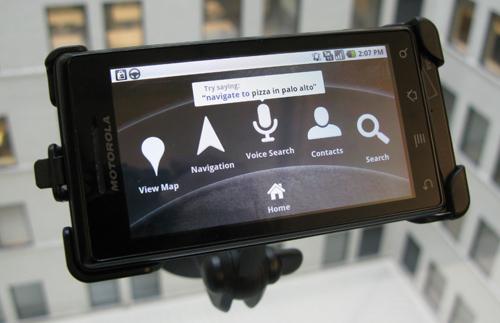 Google Maps Navigation

If you're wondering why we're not testing a newer Android phone, it's because Google Maps Navigation — currently listed as a beta release — isn't available on all Android phones. Right now, the Droid is the most popular model with it, but it is also available on the Google-branded Nexus One phone. It will also be a feature on the Droid Incredible which comes out later this month.
The most hyped features of Google Maps Navigation include searching for a destination using your voice and using Google Street View along your route. However, I found both to be secondary functions to what is an excellent full-featured GPS system.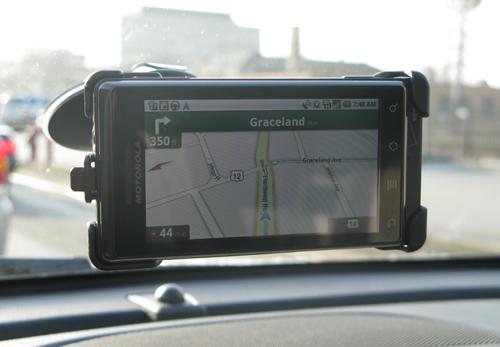 Forget the extra bells and whistles. Give me the smooth, flowing routes and maps that are the basis of Google's navigation system. As you drive, upcoming streets populate the screen, and the names of every street are displayed. I can't tell you how many navigation systems I test — even in the most expensive of luxury cars — that don't do as good a job.
The graphics are crisp, and the 3.7-inch screen is plenty big enough mounted to the windshield. Inputting an address using the Droid's keyboard was easy, and routes were quickly calculated. A computerized voice gives you turn-by-turn directions, just like on any other voice-equipped navigation system.
All told, the experience is nearly identical to any other full-fledged GPS system I've encountered.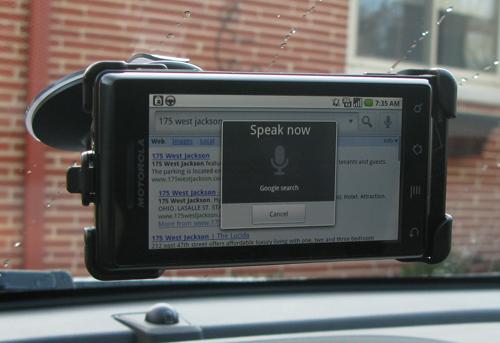 But what about the voice search function? The speech recognition works just fine. If you say "Starbucks," it displays that exact text. However, if you don't provide an exact address, you'll get the standard Google search results you'd see on a web browser, not the destination input screen you use when typing with the keyboard.
I never understood that. With most GPS devices, most of the common destinations, such as Starbucks or Wendy's, have shortcut-type selections with unique menus that are easy to read and sorted by distance — a nice feature if you're on the road and looking for a pit stop.
The Google Street View feature was a bit clunky. It didn't seem to work on a stretch of road, and the images don't look as good as they do in a web browser. I found this to be nearly useless while in transit. You'd have to be stopped at a light to get a good look.
Motorla Droid
It took me a long time to get used to the Android platform coming from my iPhone 3G. In fact, I never got used to it. Even though the Droid accessed the Internet faster, had better call quality and had really useful features, it didn't have the overall functionality of the iPhone.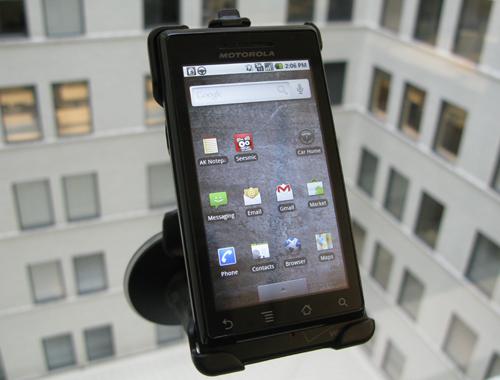 I liked the form of the Droid. It's slightly taller and narrower than the iPhone, but thicker and heavier, too. That didn't bother me — after all, you get a removable battery, better speaker, micro SD card slot, 5 megapixel camera with flash and video, and a physical keyboard. All features I wish my iPhone had.
The layout is simple, but the app icons seemed too small, and the design looked second-rate. The Amazon MP3 store and MP3 player didn't feel as natural to use as iTunes and the iPod.
The Droid's camera was fantastic, taking excellent images and high-quality video, too. I don't have the iPhone 3GS, so I can't compare the two. However, I'd say the Droid easily beats the 3G on the camera front.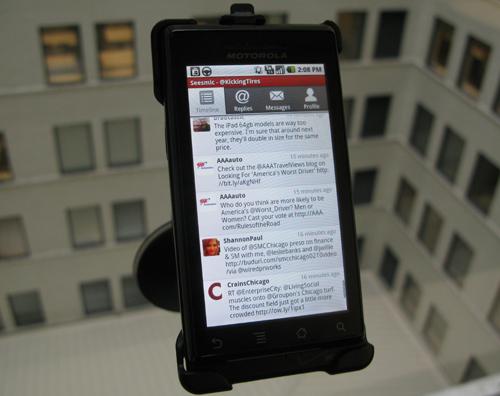 I had a hard time finding useful apps on the Droid. The one I did enjoy was Seesmic, a Twitter client. It was faster and more bulletproof than most Twitter apps on the iPhone. But again, I felt like the screen was too small for reading so many tweets.
The physical keyboard was nice to have, and I quickly got used to pressing tactile buttons again. I did make a lot of typing errors and the auto-correct wasn't terrific, but I improved over time. The on-screen keyboard took a lot more time getting used to, and I reverted to using the physical keyboard and landscape mode most of the time.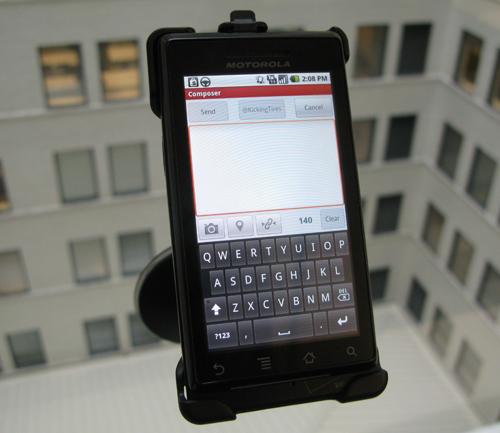 Of course, the iPhone's major drawback is its poor call quality and frequent dropped calls, especially in my house. To put the Droid through a real life-test versus the iPhone, I went down to my basement, otherwise known as the den of dropped calls.
There, I called my work voicemail and left a message — reading from one of my 2-year old's books — for about 45 seconds.
At first, both phones seemed to sound nearly identical in terms of quality, but as the story of putting on pajamas neared its end, the iPhone started to deteriorate into garbled digital noise, and the climax of the story was lost.
Summary
If you're looking for a navigation and phone combo, the Droid with Google Maps Navigation seems like the perfect choice. The handset has some drawbacks, but if you're not an iPhone user or if you are a Verizon subscriber, it is a great option. Verizon's wireless site lists nearly 7,500 consumer reviews for the Droid with an average score of 4.5 stars out of 5.
I wish I posted this review last month because Verizon was running a buy-one-get-one-free Droid deal. At $199, that was a steal for such a capable device. As of this writing, the only deal is for a free BlackBerry Pearl Flip for up to three others as long as they sign up for plans. Verizon also offers an extra 25 percent off "all multimedia phones, free activation and free overnight shipping."