Chrysler at the Auto Shows: Presence Without Products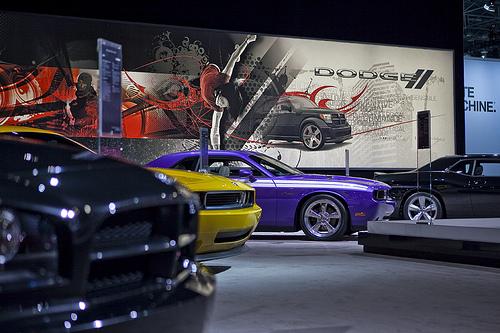 By Kelsey Mays, Cars.com
While Chrysler execs talk a good game about breaking even in 2010 and rolling out at least three new models in the next year, little has changed at Chrysler's auto show displays. This season, the automaker had only the due-in-early 2011 Fiat 500 on hand for its new products.
Amassed beyond it was the rest of the continuing lineup; one that, with a few exceptions, remains uncompetitive. Absent new products, are these displays even necessary? For the sake of the public, analysts think they are, and until the new products arrive, Chrysler's marketers will have to push hard to maintain consumer interest.
We talked during last week's New York International Auto Show with John Wolkonowicz, a senior analyst at industry forecaster IHS Global Insight. The media care chiefly about forthcoming products, Wolkonowicz said, but consumers want to see what they can buy.
"If I was John Q. Public, and my favorite brand wasn't at the local auto show, I think I'd be afraid that it was going away," he said. "And you don't want to buy a car from a company that's going away."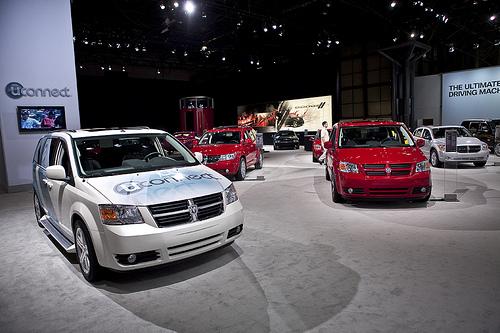 That's not the message any automaker wants to project, especially if John Q. Public is in the market for a new car. Phil Bockhorn, head of shows and events at Chrysler, said more than half of all auto show attendees are planning to buy a car in the next 12 months, a statistic that held up even through last year's industry slump. The automaker surveyed some 7,500 customers and found auto shows to be among the top three factors leading to their purchase, Bockhorn said.
Those numbers also give automakers a reason not to show too many future products. Conspicuously missing at Chrysler's displays is the redesigned Jeep Grand Cherokee, which Chrysler unveiled a year ago. It hits dealerships this summer. Chrysler CEO Sergio Marchionne makes no secret about not wanting to show cars too long before they arrive, and it's something Wolkonowicz calls a "100 percent legitimate concern."
"If Marchionne shows his Grand Cherokee here at New York, and I might be in the market for a new Grand Cherokee, by God, I don't want that old one," he said. "I want the new one. It's already been shown."
J.D. Power and Associates forecaster Jeff Schuster agrees.
"They want to sell their current lineup until the new product is available," Schuster said. "You don't want to show it too far ahead because you'll pique that interest and then it's not available.
"Consumers get excited about it and then figure out they cannot get it," he said. "You lose that buyer."
Maintaining interest in the current lineup is no easy task, but it's "extremely important," Schuster said, especially when there's a stale product lineup.
That presents Chrysler with a tough marketing challenge.
"Chrysler's brands having been dragged through the mud by so many owners over the past few years, they didn't have much of an image left," Wolkonowicz said. "Time to start building an image, which is what those guys are doing. It's the right thing to do, and, frankly, I think they're doing a pretty good job of it."
Under Fiat marketing chief Olivier Francois, Chrysler's recent efforts range from esoteric to controversial. Using recast footage from a commercial that Fiat-owned Lancia ran earlier overseas, a recent Chrysler TV ad dedicated itself to the release of Myanmar pro-democracy detainee Daw Aung San Suu Kyi. A Super Bowl spot for Dodge, meanwhile, championed the V-8 Charger as an antidote to the allegedly emasculated lives of married men. While it scored in the upper half of USA Today's Super Bowl Ad Meter, it garnered a number of op-ed rebuttals, a D-minus grade from Time magazine and several YouTube parodies by women.
Provocative or aggravating, the spots hold one thing in common: They show more sentiment than sheet metal. Right now, that might be a good thing.
"By the time the new products or the freshened products come out, I think Chrysler will have crafted a somewhat different image for its various brands in the marketplace," Wolkonowicz said. "That's good ground work to lay as they move forward. It's all they can do right now, but it's the right thing to do."