Hyundai Plans Revamped Dealership Experience for Equus Customers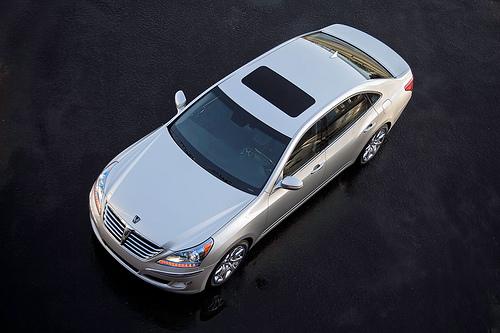 Hyundai's plan to sell the luxurious Equus a stone's throw from $10,000 Accents begs an obvious question: How will the average Joe feel when he's offered a cup of coffee, but the guy shopping an Equus gets an éclair and a cappuccino?
That won't be the case, Hyundai spokesman Miles Johnson said. But the two customers won't get identical service. Hyundai plans to offer red-carpet treatment for Equus customers that conforms to what they might get a luxury-brand dealership – but do most of it remotely.
Differentiating the service is arguably a necessary step. Better service is a typical hallmark of luxury brands, but Hyundai isn't launching one for the Equus or Genesis. Instead, it plans to retrofit a select few dealerships to sell the Equus, with modular displays inside the dealership to show off the car. The store-within-a-store concept isn't new – Mercedes does it with Smart cars, and Toyota does it with Scion. However, Hyundai plans to differentiate things even further by keeping most Equus shoppers away from the dealership entirely.
"Time is the ultimate luxury in this world," Johnson said. "If your car, your maintenance is all handled by this pick-up service, you really don't have to spend any time at the dealership. … You're not burdened by having to sit in a dealership or arrange transportation to and from a dealership, that kind of thing."
Toward that end, a specially trained "product champion" – i.e., an exemplary salesperson – can bring the Equus out to a prospective customer for an at-home test drive. Regular maintenance is done by valet, with a loaner Hyundai parked in the driveway while your Equus gets new wiper blades. Though the valet service is complementary, we suspect actual maintenance will incur its usual costs. We asked if Hyundai is planning a BMW-like free maintenance program for Equus customers, and Johnson is still getting back to us on it.
Not even Genesis customers will get this level of service, Johnson said.
That gets us back to the original question: How will Accent-shopping Joe feel about all this? No different, we suspect, than Yaris-shopping Jane feels about that couple eyeing a Land Cruiser. But Johnson said Hyundai plans to use the Equus experience as a springboard to revamp customer service for all Hyundai shoppers. That means Equus customers will still get premium service in the meantime, but down the road the rising tide may lift all Hyundais.