IPad Could Cripple In-Car DVD Sales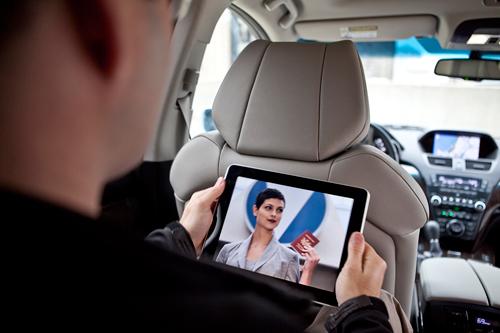 Could the iPad mean the end of rear entertainment systems? That question came to mind when I first got my iPad Monday and played around with it for an hour or two.
I'm not advocating using an iPad while driving. Distracted driving is bad enough with an easy-to-hold iPhone; there's no way a driver could grasp an iPad in any way that wouldn't be ticketworthy. Although a Toyota Tacoma owner actually mounted one onto his dash, the iPad is way too big for an aftermarket car bracket if one existed, which means using it as a GPS looks to be out of bounds. However, a passenger could easily track a trip via the GPS feature of 3G-equipped models. Those aren't on sale yet and cost $129 more than basic Wi-Fi models, which start at $500.
If not for navigation, how could the iPad be used in cars? I see the big breakthrough in the backseat, and it could prove to be a serious problem for automakers that charge a ransom for rear entertainment systems.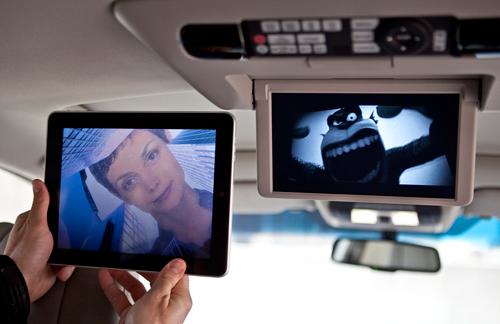 The base iPad costs far less than most DVD options offered by automakers. Ford charges $1,995 for a dual-headrest-mounted DVD system in its Flex crossover. The Acura MDX (in our photos) is $1,900 for its single screen system, which has three wireless headsets and a 9-inch screen that was impressive in size when compared next to the iPad. These prices are par for the course for similar systems from most manufacturers.
At $500 for a basic model, giving two kids their own iPads would cost less than what the automakers charge for a rear entertainment system. Plus, you get the portability and flexibility of the iPad; not only can the kids watch it on the drive to their grandmother's house, but they can watch it on the flight to their other grandmother's house. If you decide to let your kids use your iPad, you might want to opt for some insurance, though.
After a brief conference with other parents in the Cars.com office, we agreed that even a 4-year-old would be able to use an iPad for watching videos or playing games. One staffer's young kids are already doing the same regularly on iPhones.
The iPad's bigger screen would make a better in-car entertainment option than what some automakers' offer, and a 3G iPad isn't a must if the device isn't going to be used for navigation.
Of course there are advantages to OEM systems. For one, they play DVDs right out of the box; there's no need to use software to convert them on your computer to iTunes and then sync with your iPad or pay for entirely new iTunes' versions. IPads will also be a target for thieves if left in the car. They're easier to drop — I'm reminded of my toddler screaming when he drops the Thomas the Tank Engine catalog he diligently studies during short car rides — and damage. Ford points out that its systems are weather-tested, as well, so they start up and perform in cold and hot weather.
The iPad's operating temperature range is 32 to 95 degrees Fahrenheit with some web reports stating the device shuts off after ten minutes in hot sun. Ford says its systems can run from -5 to 160 degrees Fahrenheit.
You also don't have to worry about battery life, although my iPad so far has lived up to its claims of 10-plus hours of battery power.
As of right now, no one makes an iPad holder to hang in the backseat, so kids will have to hold onto the device for the entire ride.
What do you think? Is the iPad a legitimate alternative to pricey in-car entertainment systems?