$836 Million Could Lure Energy Companies to Old GM Sites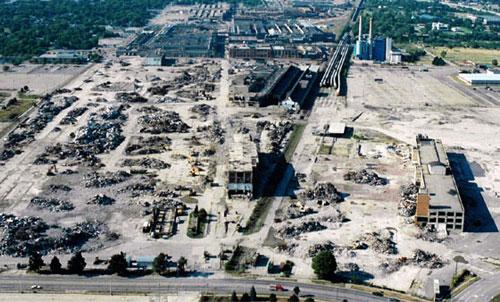 The Obama administration has proposed setting up an $836 million trust fund to lure companies that build energy-efficient technology to abandoned GM plants.
Using no new government money, the trust would be used for environmental cleanup at old GM sites in 14 states. The sites would be cleaned up, demolished or returned to the local communities. States and municipalities would be relieved of a major financial burden and could recruit new companies to the unused plants. The money would ease the concerns of companies worried about environmental liabilities.
Michigan Gov. Jennifer Granholm said the sites could be used not only for tech startups but also major firms, such as General Electric.
Fifty-seven of the 89 sites are in Michigan, including well-known operations at places like Willow Run, Ypsilanti and Buick City in Flint (pictured above). The state would get $161 million of the trust. President Barack Obama announced the plan from the Rust Belt city of Youngstown, Ohio, which has been hard hit by the auto industry's troubles.
The plan must first be approved by the U.S. Bankruptcy Court, which oversees Motors Liquidation (better known as "Old GM"). The money will come from the $1.2 billion fund the U.S. Treasury allocated for wind-down costs following GM's 2009 bankruptcy.
Granholm has cautioned, however, that cleaning up some of the sites may take years to complete.
Old GM Plants May Lure Energy Companies (Detroit Free Press)