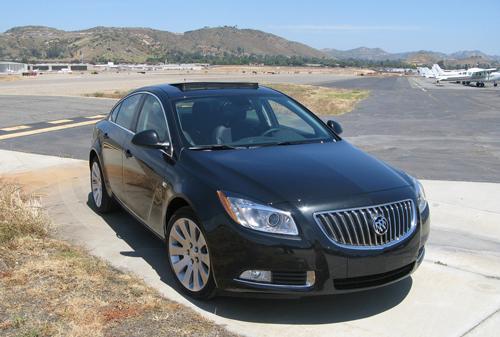 I had the arduous assignment of flying to San Diego to review the all-new 2011 Buick Regal sedan. The model just now reaching dealers is a 2.4-liter four-cylinder CXL, the base powerplant, which returns 20/30 mpg city/highway. A full review of that car is in the works, but Buick also let me test an early prototype of the turbocharged 2.0-liter four-cylinder that joins the Regal lineup at the end of this year.

Besides a few steering tweaks and hammering out some engine noises, this is the turbocharged Regal you'll be able to buy for less than $30,000, and it's pretty darn good.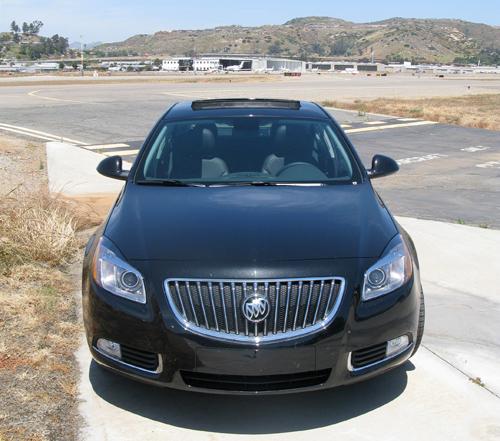 The 2.4-liter's strength is its crisp handling and pleasing ride, which is not always a combination you'll find in pseudo sport sedans. There is none of the float found in the redesigned LaCrosse, yet road imperfections are well-muted.

Moving to the turbo and the steering may be different, but the ride is just as superb despite standard 19-inch wheels versus the base's 18s. Buick engineers are still fooling with the steering, according to the automaker. While it's hydraulic like the 2.4-liter, it's also speed variable, which means at low speeds the steering isn't as sharp as it is at high speeds. However, it's still rather numb and loose even when pushing it hard. That's definitely the feel Buick knows it doesn't want, especially considering that the base model's steering wheel is highly sprung. The base CXL's wheel reminds me of a Volkswagen in some ways but with more rubber band elasticity.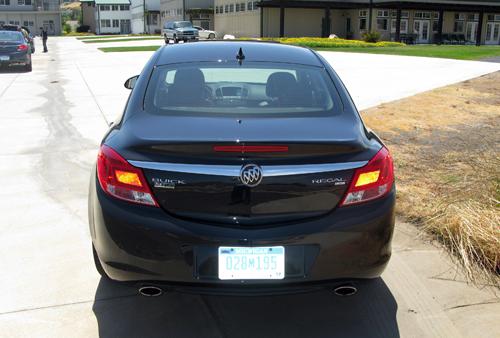 Once the steering issue is addressed, drivers will likely rave about the turbo. Pumping out 220 horsepower and 258 pounds-feet of torque, it's a perfect complement to the Regal platform. On curvy mountain roads the turbo accelerated with ease on ascent. There was the tiniest of turbo whine intruding into the cabin. As with the steering issue, Buick noted that this was an area they were planning to tackle before the turbo goes on sale. Otherwise, both models are surprisingly quiet with little road or wind noise intruding on the cabin.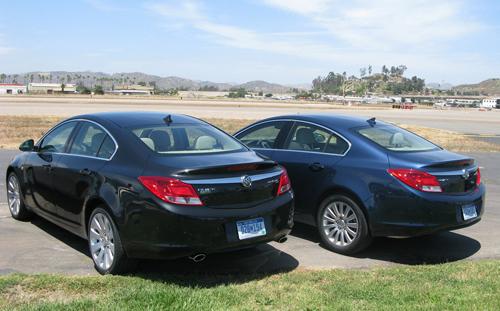 The base 2.4-liter feels competent in most situations, but it strained to accelerate uphill and made a hoarse groan on mountain roads. The turbo not only managed these situations, but at highway speeds it passed and ran through 60 to 70 mph with vigor.

It's the type of fun driving experience you'd expect from a turbo powertrain, and it feels right fitted to the midsize Regal. It's the opposite of the V-6 Acura shoehorned into the TSX, the Regal's closest rival, I reviewed last year.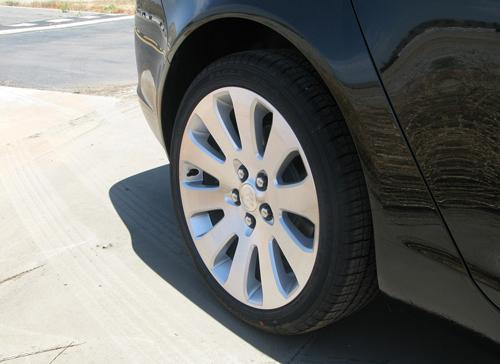 Buick expects this turbo to get 19/29 mpg, giving up just 1 mpg to the base model while delivering the added power. It will cost $28,745 before the destination fee. Buick mentioned the just-announced GS will top the range with even more power — the auto show car put out 255 hp — so this turbo doesn't need to be the ultimate Regal driving machine.

Even in its unfinished state the turbo exhibits few compromises while delivering an engaging drive at a relatively low cost.


I have to wonder how many shoppers will wait on a Regal purchase until they get to test drive both