New Ford Fiesta Ad Slams Other Fords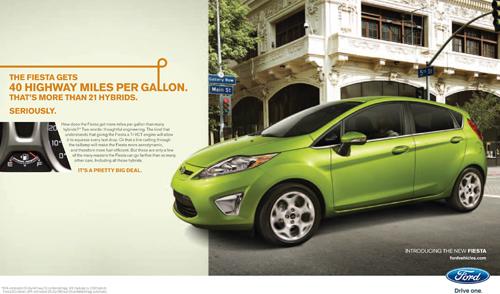 One tagline for the official onslaught of Ford Fiesta marketing and advertising reads, "The Fiesta gets 40 miles per gallon. 21 hybrids do not." It's a powerful statement that will definitely grab the attention of consumers who don't regularly follow our site.
Because if they did they'd know that the 21 hybrids Ford is talking about includes
—
or should
—
five Ford models that don't achieve 40 mpg highway. They include the Ford Fusion Hybrid and its Mercury Milan Hybrid and Lincoln MKZ siblings, and the Ford Escape Hybrid compact SUV and its Mercury sibling, the Mariner Hybrid.
To learn which other cars get 40 mpg on the highway, you can check out our guide to high-mileage cars
here
. If you're wondering which other hybrids don't get 40 mpg highway, they include some pricey ones such as the BMW X6 ActiveHybrid, Lexus LS 600h L, Mercedes-Benz S400 Hybrid and the Toyota Camry Hybrid.
To give Ford its due credit, none of the Fiesta's direct competitors come close to 40 mpg highway, with the Toyota Yaris coming closest at 36 mpg highway. The car is just reaching lots now, with Cars.com's national inventory
showing just 39 Fiestas
. Check out the image gallery of an SE hatchback in Medford, Mass.
here
.
Why Ford's Fiesta 2011 Launch Is a 'Pretty Big Deal' (BrandWeek)
Cars.com 2011 Ford Fiesta Review