2011 Kia Sorento V-6, Four-Cylinder Get Identical Mileage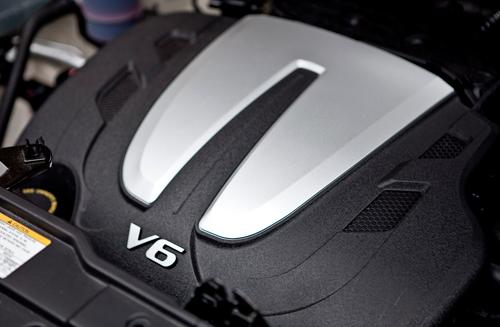 There's a conspiracy theory circulating among some of our commenters that the new Chevy Equinox gets much lower fuel economy than the EPA estimate listed on its window sticker. A recent blog post by Consumer Reports about the similarly sized and powered 2011 Kia Sorento might back up their claims.
They tested a pair of all-wheel-drive 2011 Sorentos — an EX with a 3.5-liter V-6 and an LX with a 2.4-liter four-cylinder — and both returned a combined mileage of 20 mpg. The EPA rates the combined mileage of the V-6-powered EX at 21 mpg and the LX at 23 mpg.
Consumer Reports states the results might be because of the overall weight of the SUVs. The only other vehicles with similar results were the Hyundai Santa Fe and Toyota RAV4, according to Consumer Reports.
Yesterday, I commented that the Equinox was 1 mpg off its EPA-estimated fuel economy in my personal testing. I later went through my notes and found that the Equinox's mileage was actually better than I usually get in test cars on my daily driving routine. Typically, the cars I test return their EPA estimate for city mileage (I do a lot of bumper-to-bumper driving). The four-cylinder Equinox returned 23.5 mpg after one fill-up and 24.1 mpg after a second. It's rated at 22/32 mpg city/highway and 26 mpg combined. According to my notes, the weather was fairly good, so no air conditioning or heat was used during the test, which can likely account for the above-average returns.
Update: In my own testing of the four-cylinder and V-6 Sorento I did achieve better mileage with the four-cylinder. However, it was front-wheel drive while our V-6 was all-wheel drive. Both were during freezing winter driving averaging 17.3 mpg in the V-6 and 19.1 in the four-cylinder. However, these tests were over one week each while Consumer Reports purchases its vehicles for long-term testing.
A tale of two Kias: Why more powerful engines sometimes don't sacrifice mpg
(Consumer Reports)