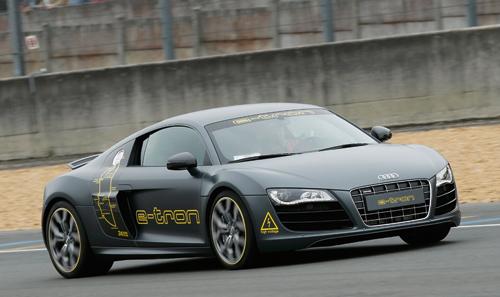 It's not often that a prototype is rolled out in front of thousands of people. It's less often when it's rolled out in front of thousands of people who know about cars. It's nearly unheard of that an automaker will then let the car drive on a track in front of said throngs.
That's what Audi did with its e-tron electric supercar over the weekend at the 24 Hours of Le Mans race. Currently in the shell of an R8 sports car, the e-tron's technology is pretty impressive. Four electric motors power each wheel and the battery pack is placed behind the passengers, which is where the R8's engine usually rests. This helps with weight distribution.
Oh, and it hits 62 mph in 4.8 seconds with up to 70% of power able to go to the rear wheels.
While not as fast as a Tesla, the R8 is a much heavier vehicle, and we'd expect the final e-tron to be designed specifically to address the weight issue. Meaning it should be a lot faster.
More on the Audi e-tron